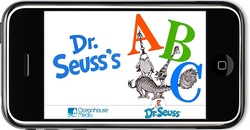 We are excited to honor Theodor Geisel by making these products available at an incredible price for one day only.
Encinitas, CA (PRWEB) March 1, 2010
Oceanhouse Media, Inc. is dropping the price of their entire line of Dr. Seuss iPhone / iPod Touch apps to an astonishing $0.99 on March 2nd, for one day only, in honor of Theodor Geisel's (Dr. Seuss) birthday and Read Across America Day.
The National Education Association's Read Across America is an annual reading motivation and awareness program that calls for every child in every community across our nation to celebrate reading on March 2, the birthday of beloved children's author Dr. Seuss. http://www.nea.org/readacross
Dr. Seuss apps currently available on the App Store are:

The Cat in the Hat eBook
Dr. Seuss's ABC eBook
How the Grinch Stole Christmas! eBook
Dr. Seuss Camera - The Cat in the Hat Edition
Dr. Seuss Camera - The Grinch Edition
Grinchmas! kid's game
All three interactive eBooks, normally $3.99 each, combine the beautiful original artwork of the books with innovative features that promote reading in young children, including highlighted picture / word associations, professional narrations and custom background audio.
Normally $2.99 each, the Dr. Seuss Camera apps allow users to create unique and whimsical photo cards using the iPhone's built-in camera or Photo Library. Users can pose with or choose to become characters from the books. Cards can be personalized with comical and colorful stamps, borders and classic Seussian text and then e-mailed to friends and family or saved to the Photo Library.
Grinchmas! is a fun, casual game of skill and accuracy, normally priced at $1.99. It was the #1 Kids Game, #2 Family Game and the Top 8 Paid App on the App Store for the holiday season.
"We are excited to honor Theodor Geisel by making these products available at an incredible price for one day only. It is our goal to deliver apps that keep with Dr. Seuss's tradition of improving learning and literacy in elementary schools," said Michel Kripalani, President of Oceanhouse Media. "Keep your eyes out for more of Dr. Seuss's beloved, classic children's stories, games and activities for the iPhone, iPod Touch and iPad soon."
For more information and demo videos on these products and direct links to the App store, please visit http://www.oceanhousemedia.com/drseuss.
About Oceanhouse Media
Oceanhouse Media, Inc. is an iPhone, iPod Touch and iPad app development company founded in early 2009 by Michel Kripalani, former CEO of Presto Studios and Director of Business Development at Autodesk. The team is comprised of developers with decades of experience, primarily from the videogame business, that now share a common purpose to uplift, educate and inspire through technology. Currently, Oceanhouse Media has over 80 apps on the App Store. The company's corporate mantra is "Creativity with Purpose." http://www.oceanhousemedia.com
About Dr. Seuss Enterprise, L.P.
Dr. Seuss Enterprises was founded in 1993 following the death of Theodor S. Geisel, Dr. Seuss, to conserve and nurture the works of Dr. Seuss by protecting the integrity of the Dr. Seuss books while expanding beyond books into licensed merchandise. The licensing effort is a strategic part of the overall effort to strengthen and protect the relationship consumers have with Dr. Seuss characters. Theodor Geisel said he never wanted to license his characters to anyone who would "round out the edges". That is one of the guiding philosophies of Dr. Seuss Enterprises.
###