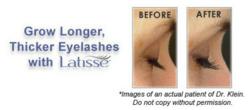 Latisse Eyelash Treatment increases length, thickness and darkness of eyelashes. iGrow Laser Hair Rejuvenation System stimulates hair follicles to increase hair growth and treat hair loss and thinning in both men and women.
Laguna Niguel, CA (PRWEB) February 22, 2012
Dr. Lorrie Klein, M.D., today announces the launch of her new online store, drskincareproducts.com, that shall be selling Latisse Eyelash Treatment and iGrow Laser Hair Rejuvenation System. The new store shall provide information on Latisse Eyelash Treatment and iGrow Laser Hair Rejuvenation System uses, effects and advantages. Visitors to the store shall also be able to make purchase orders from within the store as well as get a Latisse Intake and Informed Consent form for their Latisse Eyelash Treatment purchase.
Latisse Eyelash Treatment (bimatoprost ophthalmic solution) is a prescription-only eyelash treatment manufactured by Allergan, a leading pharmaceutical company in the country. The active ingredient bimatoprost, an FDA approved compound, was previously used by Allergan to treat ocular hypertension in glaucoma patients. However, it was observed that users developed a marked improvement in their eyelash length, darkness and thickness. Clinical trials followed this observation and Allergan was able to seek and successfully attain, in 2008, FDA approval for Latisse Eyelash Treatment. This makes Latisse Eyelash Treatment the only science-based FDA-approved treatment to increase eyelash prominence as measured by an increase in thickness, length and darkness of eyelashes.
Available only as a prescription, Latisse is applied once a day to the base of the upper eyelashes using a sterile, single-use-per-eye non-reusable applicator. Latisse users should anticipate fuller, longer and darker eyelashes in as few as 8 weeks, and should experience full results in sixteen weeks. To maintain this effect, Latisse treatment must be continued. Discontinuation of Latisse will result in eyelashes gradually returning to their previous state prior to treatment.
iGrow Laser Hair Rejuvenation System is a hands-free laser hair re-growth treatment developed by Apira Science for the treatment of hair thinning and hair loss in both men and women. Laser hair rejuvenation treatment has been around for years and has undergone numerous clinical trials that confirmed that red laser lighting affects the anagen (growth) phase of hair thus stimulating and increasing hair growth.
More specifically, iGrow Laser Hair Rejuvenation System utilizes LLLT (Low Level Laser Lighting Technology) to alter and stimulate hair follicular cell activity and in the process induce increased hair growth. The iGrow laser treatment has 51 light sources (21 laser diodes plus 30 Light Emitting Diodes/LED) in the 595nm and 695nm spectrum to provide full scalp area coverage and optimal laser-induced hair growth. It is a home-use treatment therapy designed to be convenient and affordable. The system also features adjustable size, inbuilt earphones, and preconfigured treatment settings, amongst other features.
Dr. Lorrie Klein, M.D., is a board certified dermatologist who runs her private practice in Orange County, California. She has extensive training in laser, sclerotherapy and other dermatological procedures and is a Diplomat of the American Board of Dermatologists. She also maintains memberships and fellowships in various professional bodies including the American Academy of Dermatology, American Society for Dermatological Surgery, Dermatology Society of Orange County, amongst others. She has also served as an Assistant Clinical Professor in Dermatology at UCI medical School and is on the staffs at South Coast Medical Centre as well as UCI Medical Centre. She holds a position on the National Education Faculty for Allergan (Botox® and Juvederm™ trainer) and is a member of Allergan's Black Diamond level Aesthetic Partnership for physicians using Botox®, Juvederm™ and Latisse in the U.S.
Contact Information
Lorrie Klein, M.D., A Professional Corporation
Dermatology & Laser Center
30201 Golden Lantern #B
Laguna Niguel, CA 92667
(949)363-1788
# # #