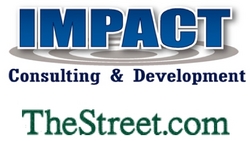 Rochester, MI (PRWEB) April 21, 2009
Dr. L. Todd Thomas, premier coach in global leadership development and president of IMPACT Consulting and Development, LLC., recently seen on Fox Business News, CNBC has been asked to join TheStreet.com as a featured weekly columnist.
TheStreet.com is a leading financial media company with a network of Web sites that covers all areas of money from investing and personal finance to in-depth financial coverage from financial insiders including Paul Rubillo, Jim Cramer and Howard Simmons. Thomas' column 'Leadership Matters' appears every Monday in the 'Don't Miss' section of the site and covers all aspects of leadership in business. In his first column, 'Urgency and Panic,' published Monday March 30, 2009, Thomas discussed the need for urgency in tough times and the different affect urgency versus panic has on workers.
"Creating a sense of urgency is necessary in trying times. Without it, teams and organizations become complacent and at the mercy of the external forces around them. A sense of panic on the other hand can paralyze a group as they struggle with uncertainty. It is well worth the time to determine where your team stands today and to engage them fully in the coming months. You can't afford to miss the opportunity."
Dr. L. Todd Thomas is a speaker, author, trainer, coach, and president of IMPACT Consulting and Development, LLC. He has coached leaders from nearly 40 countries, provided seminars and presentations in over 20 countries and is a member of the National Speakers Association, the International Federation of Speakers and the Les Brown Platinum Speakers Network. The International Consortium for Executive Development Research (ICEDR) recently recognized Todd as one of the most innovative speakers and trainers of our time.
Thomas holds a PhD in Human Communication, Masters in Educational Psychology and a Masters in Interpersonal Communication. He was a professor at North Carolina State University and Indiana University before leaving for the corporate world. He led Organizational Learning at Rockwell Avionics and was the executive responsible for Organizational and Executive Development at Daimler Financial Services for 10 years.
About IMPACT Consulting and Development, LLC:
IMPACT Consulting and Development is a leading resource in leadership coaching and training. We provide customized leadership and communication workshops, seminars, and coaching for individuals and organizations.
###