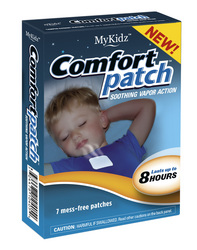 Reading about the spread and dangers of www.comfortpatch.com [H1N1 virus] and the seasonal flu can be very scary and figuring out what's right for their kids is top of mind for parents
Monmouth Junction, NJ (Vocus) October 30, 2009
This cold and flu season has come on strong, and the spread of the H1N1 virus has caused further concern especially among parents of young children. Unfortunately, there are fewer and fewer treatment options for these young kids driven by recent FDA safety concerns and label changes restricting use of over-the-counter cough and cold products to children under 4 years of age. Parents are looking for safe, effective, simple products to help soothe their kids, especially through the night so that they can get a good night's sleep.
New Comfort Patch™ is a safe, non-drug option that soothes kids' noses and throats with vapors that work up to 8 hours. Vapors penetrate nasal passages through the night, so parents and kids can get a good night's sleep. MyKidz, the makers of Comfort Patch, is addressing the concerns of a new generation of moms that diligently stay informed on health issues and look for drug-free, convenient options for their kids. In recent testing, nearly 90 percent* of moms rated Comfort Patch as better than other products for being mess-free and easy to use. In addition, the new MyKidz Cold & Flu Prep Center, which can be found on Facebook, will help moms navigate the news by providing the latest on prevention issues, as well as tips for treating and soothing kids when they begin to show symptoms.
"Reading about the spread and dangers of H1N1 virus and the seasonal flu can be very scary and figuring out what's right for their kids is top of mind for parents," said Dennis O'Donnell, president of NextWave Pharmaceuticals' OTC division. "We want to do our part to weed through the information and educate parents on things they can do preventatively and ways to comfort their kids if they do get sick. Comfort Patch is a drug-free option that parents should consider to help soothe little stuffy noses this season."
Comfort Patch is safe for kids ages 2 and up. Parents apply the soothing vapor patch to their child's pajamas and little throats and noses will be comforted all night long. The easy, no-mess application adheres to clothing, not children's skin. More information and a list of retailers is available at http://www.comfortpatch.com.
ABOUT NextWave Pharmaceuticals
NextWave Pharmaceuticals is a specialty pharmaceutical company with a broad line of pediatric products in development. NextWave licenses and develops unique products that address many of the compliance, convenience, dosing and safety issues that consumers face today.
*Persuadable Research Corp. National Study, 2008.
###