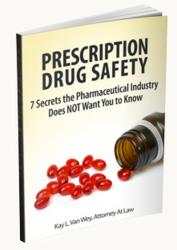 Dallas, TX (PRWEB) October 19, 2012
Drug recall attorney Kay Van Wey warns that five people have died and an additional 30 have been sickened with a rare form of fungal meningitis after receiving spinal steroid injections made by New England Compounding Center in Framingham, Massachusetts.
The tainted injections, known as methylprednisolone acetate, were sent to 75 clinics in 23 states, and were potentially given to thousands of patients, including patients in Texas. Officials at the Centers for Disease Control and Prevention warn that the outbreak could become much more serious, as fungal meningitis can take anywhere from one week to one month to develop.
Back pain patients who have received a spinal steroid injection since July should contact their healthcare providers to determine whether they received one of the tainted injections from the New England Compounding Center.
Common symptoms of fungal meningitis include fever, headache, dizziness, and nausea. Some of the victims from the recent outbreak have also experienced strokes and stroke-like symptoms, including slurred speech, difficulty finding words, numbness, and weakness. Fungal meningitis can cause neurological damage and even death.
Kay Van Wey is a Board Certified personal injury attorney who has dedicated her career to helping patients who have been injured by corporations that have put profits ahead of patient safety. She is currently involved in several large multidistrict litigation cases involving dangerous drugs and defective products and represents patients across the United States.
"Tainted prescription drugs have been an issue in the United States for several years. This recent meningitis outbreak highlights the lack of regulation of some of the facilities that manufacture our prescription drugs," says Ms. Van Wey.
In her book entitled Prescription Drug Safety: 7 Secrets the Pharmaceutical Industry Does NOT Want You to Know, available as a free download from http://www.vanweylaw.com, Ms. Van Wey has written about tainted prescription drugs, pointing out that "it is virtually impossible to tell from sight, smell, or touch alone whether a particular drug is contaminated." In fact, patients rely on and trust in the manufacturers to deliver a safe and effective product.
"One of the most efficient ways to ensure manufacturers deliver quality products free of contamination is to bring lawsuits against those companies and hold them responsible for the injuries they have caused innocent patients," says Ms. Van Wey.
If you or a loved one contracted meningitis from a spinal injection, you deserve to know your legal rights. Call (800) 489-5082 to speak with drug recall attorney Kay Van Wey directly about your potential fungal meningitis lawsuit, or email her at Kay(at)vanweylaw(dot)com.