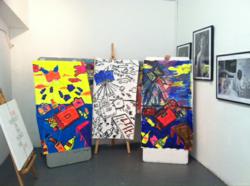 Miami, Florida (PRWEB) June 08, 2013
Into Action Treatment Center is collaborating with Rise Up Gallery again this weekend. They are taking part in the Wynwood Art Walk and will be at the Rise Up Gallery helping to support and inform the community about addiction and recovery. Into Action Treatment and Rise Up Gallery have a very similar mission which is to restore hope and a new found purpose to life for those who are living with either drug addiction or paralysis. Both addiction and paralysis can take over a person's life and make it hard to see the reason in living, but both Into Action Treatment and Rise Up are there to show everyone that life can be lived even with these huge life issues. Both organizations are excited to be taking part in the Wynwood Art Walk and continuing their collaboration together.
Wynwood Art Walk is a directory showcasing art institutions operating within Wynwood. Wynwood is a section of Miami just north of Downtown, south of the Design District, east of I-95, and west of Biscayne Boulevard. There are currently over 60 art galleries, art complexes and art collection in Wynwood.
Rise Up Gallery is a non profit organization which showcases the artwork of people with disabilities. The sale of these works creates a vital income opportunity for the artists. Rise Up also partners with hospitals and rehabilitation facilities to offer adaptive art workshops to the community.
Into Action Treatment is a small 24 bed coed Florida drug rehab center located in Boynton Beach. Into Action is a very unique center, which focuses on long term recovery for addicts and alcoholics. Most treatment centers in the industry are 28 days, however Into Action is a minimum of 45 days, while most clients who complete the program end up staying over 90 days, even if their insurance money has run out. For more information on Into Action Treatment and how they can help those affected with addiction, visit their website at http://www.intoactiontreatment.com, or call their 24 hour hotline at 1-855-933-6732 for free addiction advice and treatment options.