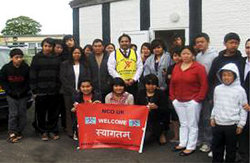 Drug abuse and addiction miseries migrate with populations
(PRWEB) May 20, 2009
Narconon Nepal rehab director flies to UK to lecture the Gurkha community to help reduce rising youthful drug abuse.
"Drug abuse and addiction miseries migrate with populations," says Basanta Raj Kunwar, director of Narconon Nepal. This may be what unfortunately has happened with the Gurkhas, more than 100,000 of whom moved to England after a 1997 UK court decision approved that ex-Gurkha soldiers who served for the UK could receive citizenship along with their families. Speaking to Nepali parents in London, Kunwar said, "Our kids brought their drug problems along with them and found new ones here."
Kunwar, a 23 year police force veteran and former Senior Superintendent of Police in Nepal, travelled from Kathmandu the first week of May, invited by the UK Nepali Association, to deliver drug education and awareness lectures across Greater London, from Basingstoke to Swindon, Harrow to Oxford. In a whirlwind 8 days, he delivered 9 presentations to 3,110 people and reached another 525,000 through Nepali radio, TV, and newspapers.
"We know that worldwide our communities share common drug problems," says the energetic Kunwar, "and with our growing Narconon network, 150 centres in 50 countries, we have workable solutions. I should know." It was only a few years ago, he says, that he researched for better drug rehabilitation solutions for Kathmandu. Since his retirement from the police, he had attempted to provide drug rehab to Nepali youth with his "Pratigya" (pledge) charitable foundation, but to poor result. Then he found the Narconon® drug rehabilitation program and got himself, his staff, and family trained up in its techniques. Now he has a 100-bed program in Kathmandu, operating from 5 different buildings. He is also constructing a new 150-bed facility in the mountains nearby, with funds donated by the International Association of Scientologists. Narconon bases its methods on the research and philosophy of humanitarian L. Ron Hubbard. The program itself is fully secular and non-religious.
In an interview by BGWS, a British military radio station, Kunwar advised Gurkha parents "you must not hide your drug addiction problems. Drugs will destroy your children if you do not educate yourselves. Happily, I can attest that Narconon can give you real help." He recommended Narconon Hastings, England and other centres nearby in Denmark, Sweden, and Holland, as well as Nepal itself.
From time immemorial, alcohol abuse has been endemic in Nepal, but has been addressed no more successfully there than in Russia or China. Although "ganja" (hashish) has been smoked in Nepal for centuries, the drug problem escalated only in the 60s with the influx of the western hippie culture. Now there are serious heroin and other drug problems.
Kunwar showed Nepali parents how to recognize drug use symptoms and how to use urine screening kits. Within hours of returning home, four parents called him, he says, to say they uncovered drug use in their family. Kunwar himself is running a collaborative drug screening program with Kathmandu high schools. "I estimate 4,000 Nepali youth are taking hard drugs in the UK," he concludes. "I have advised families to form up collectively to make a strategy to protect their communities."
For more information on Narconon community awareness programs, please see Narconon Serving the Community, a brochure available online. To ask for help in the UK, go to http://www.drugrehab.co.uk.
###