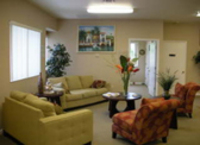 Port St. Lucie, Fla. (PRWEB) December 8, 2008
Ambrosia Treatment Center, a holistic-based drug rehabilitation center located in Port St Lucie Florida, now offers extended stay addiction treatment programs specifically tailored to the needs of the patient.
When it comes to health problems, a quick and neat solution is preferred nowadays. We have pills and syrups to ease every possible symptom. Surgery procedures that can be performed the same day and leave minimal scarring. However, when it comes to drug and alcohol addiction there is no such thing as a "quick and neat solution." Recent scientific studies have shown that the longer the treatment, the better the recovery and the more permanent the sobriety.
Therefore, drug rehab centers nationwide have begun lengthening their programs and making recommendations to possible patients for longer treatment stays that are still cost effective. Ambrosia Treatment Center, a world-class holistic drug rehab facility located in Port St. Lucie Florida, has begun offering both 60-90 day programs and 6-12 month programs, in addition to their shorter programs, in order to provide specialized treatment for all of their clientele.
According to the National Institute on Drug Abuse, over forty to sixty percent of people "will relapse after drug treatment." Addiction experts are now proving that longer treatment where client's specific needs are taken into account will alleviate the massive weight of addicts relapsing and cycling between 30-day hospitalizations for years and years. Dr. David Lewis, director of Visions Rehabilitation Center in Malibu, says that 30-day treatment programs were originally established for the Air Force and were only scheduled in that manner for bureaucratic reasons--"men and women didn't need to be reassigned if they were away from duty for more than 30 days. Other treatment centers followed suit."
However, there was at the time no direct scientific evidence that showed that 30 days was adequate time for treatment. Today, we know that there are no "magic numbers" when it comes to drug and alcohol abuse treatment and those 30 days is not nearly enough. The Ambrosia Treatment Center, as a holistic-based drug rehab facility, follows this pattern by treating the "whole" person in order to resolve the underlying issues that may be causing the addiction in the first place. Often times, treating the "whole" person requires more than simply 30-days.
However, many people find that an extended stay beyond 30-days is too much for addiction treatment. People argue that they have jobs, school, families--the normal day-in-day out routine that needs attention. What they want from rehabilitation is a quick fix. Yet, as stated before, there is no quick fix for drug and alcohol addiction and abuse. Studies have shown that addiction is best analogized to a chronic disease, such as heart disease--addiction requires critical attention and perseverance in terms of treatment in order to remain healthy. The Ambrosia Treatment Center family provides strong and capable staff, each of which carry over 20 years experience treating substance abuse and addiction treatment clients from all walks of life. Their attention to detail enables them to provide each client with an individualized regiment of treatment and not necessarily "cookie cutter" their therapy.
At the end of the day, this is what sets The Ambrosia Treatment Center different from other rehabilitation clinics--they care. They want to see your loved ones get well. They never give up on an addicted person. And, at the end of the day, they believe that you never fail unless you just quit trying.
For additional information on the AMBROSIA TREATMENT CENTER and drug abuse treatment please call 1-866-616-0069 or visit http://www.ambrosiatreatmentcenter.com.
###