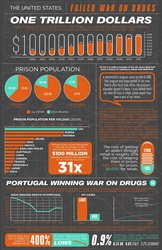 West Palm Beach, FL (PRWEB) April 20, 2011
In a recent release of the Obama administration's 2011 fiscal budget proposal, Obama requested $15.5 billion for federal drug control, a 3.5% increase over last years. Obama's budget request, which maintains a significant imbalance between spending on rehab and prevention and spending on law enforcement, shows that the administration is continuing to treat the country's drug problem as a criminal justice issue, rather than a public health issue. Unity Recovery Center has created an infographic in response to the current imbalanced budget, depicting that the country's current drug issues could be better handled, and in a less costly manner, if there was more emphasis on treatment and prevention.
Their infographic creatively demonstrates that so long as a drug addiction is present, the demand for drugs will always be there. Treating and taking away the addiction, will in turn take away the demand. It goes on to illustrate the amount of money that could be saved if drug rehab was offered, rather than incarcerating an individual for a drug related crime. As the infographic states, the cost of getting an addict through treatment is roughly 25% the cost of keeping them in prison. The numbers fall around $26, 000 for prison and only $6,000 for rehab.
Portugal's successful war on drugs is also depicted in graphs illustrating the drastic decline in overdoses, prison over crowding, and HIV cases since Portugal decided to shift its focus to treatment and prevention, rather than incarceration. A study done in Portugal revealed a 66% reduction in drug related court cases. Portugal also now has the lowest drug use rate of any western European country.
The infographic statistics successfully prove that instead of using our state's money to simply punish someone for their addiction in state prison or jail, it is more cost effective to put the money and the individual into a drug or alcohol rehab center where they can receive help. Setting someone free after time spent will most likely result in a need to immediately feed their addiction and will only begin the criminal cycle over again. Addiction is not something one can resolve on his or her own and thinking that incarceration is the best option can be unnecessarily costly in the long run. It also does very little to help the individual or our country's illicit drug problem.
About Unity Recovery Center
Unity Recovery Center is a Florida drug rehab located in Hobe Sound and West Palm Beach. Their treatment center provides the highest quality of 12-step and individualized drug and alcohol rehab services in Florida.
###