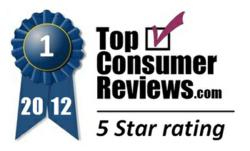 We're pleased to receive TopConsumerReviews.com's highest rating... Thank you for recognizing our efforts!
Overland Park, KS (PRWEB) December 03, 2012
TopConsumerReviews.com recently awarded their highest five-star rating to Test Country, an industry leader in drug tests.
"We're pleased to receive TopConsumerReviews.com's highest rating," said Serhat Pala, President at Test Country. "We've made drug testing simple and affordable for parents and employers alike. You can discreetly test in the privacy of your home or office with the same results as expensive lab tests. With our large selection of drug tests, you're sure to find exactly what you're looking for at the right price. Thank you for recognizing our efforts!"
Drug tests have become an important preventative safety measure for many companies of all sizes. A drug free work force means less sick days, fewer accidents, and reduced rates of theft. But, for companies on a tight budget, laboratory testing can be out of reach. Many companies have turned to at-work drug testing to fit this important aspect of employee screening into the company budget.
In addition, not only are companies using drug tests, but many parents have found the usefulness for affordable and discreet drug testing in their homes. The question for many people is where to find a solid drug test to meet their needs. Online companies offer a plethora of drug tests at affordable prices
"At the Test Country website you can find the drug test you're looking for quickly and easily," explained Brian Dolezal, of TopConsumerReviews.com, LLC. "Test Country is our top online company for home and business drug testing. A strong A+ Better Business Bureau rating tells you that Test Country successfully serves thousands of customers each year, with a focus on quality and service. If you're looking for an affordable and accurate drug test, Test Country should be your first stop."
To find out more about home drug tests, including reviews and comparison rankings, please visit the Drug Tests category of TopConsumerReviews.com at http://www.topconsumerreviews.com/drug-tests/.
About Test Country
TestCountry specializes in easy-to-use tests that can be individually administered in the security and privacy of a home or office, regardless of the circumstances. Since its inception in 2002, hundreds of law enforcement, government, corporate and professional organizations utilize TestCountry products. Some of those products include their drug test kits, for substance abuse testing, health hazard detection, and pre-employment drug testing. TestCountry also offer steroid, nicotine, heavy metal toxicity and a wide variety of other specialty testing kits and laboratory services.
About TopConsumerReviews.com
TopConsumerReviews.com is a leading provider of independent reviews and rankings of hundreds of consumer products and services. From top-rated Christmas trees and the best home security systems, to payday loan reviews and quality photo books, TopConsumerReviews.com delivers in-depth product evaluations in order to make your purchasing decision easier.