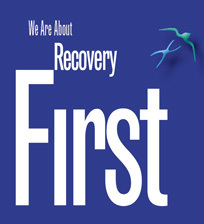 We do one thing, and one thing only - we help Alcoholics and Addicts recover...and we do it really well.
Hollywood, FL (PRWEB) August 8, 2010
Unlike many of the other treatment centers in the Substance Abuse Treatment field, Recovery First, Inc. stays in touch with their clients long after they graduate from the program. They rigorously conduct follow up surveys with clients post treatment at 1, 3, 6, 9, and 12 months, to make sure that they are on track and remaining clean and sober.
They don't reach everyone. According to James F. Davis, CEO, they reach about 40% of their graduates, and "90 - 100% of the clients we reach are clean and sober." The national average for success after treatment is estimated between 10% and 20%.
Mr. Davis says that, "we believe that the reason for our success is that we focus on Recovery. We are not a country club or a spa - we treat drug addiction and alcoholism and our results speak for themselves."
In addition to group and individual counseling sessions, lectures and experiential work, Recovery First has a unique treatment model that emphasizes three things: Post Acute Withdrawal Syndrome education, Denial Management, and Relapse Prevention strategies. They credit the success of their program to this unique combination.
By helping the individual identify what is going on physically, mentally and emotionally, we work with them and design an individualized behavioral strategy that will work for them when they are stressed out or upset. This way, we stop the relapse before it happens - and that has made all the difference," says Mr. Davis. "What surprises us is hearing so many of our chronic relapse clients who have been in other treatment centers tell us that they've never heard of this stuff before."
For more information on Recovery First or treatment options for drug addiction and alcoholism,
please visit: http://www.recoveryfirst.org
###