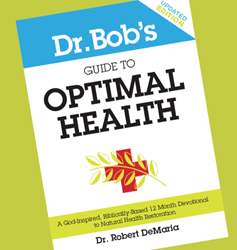 Make 2014 Your Healthiest Year Yet with #OptimalU
Cleveland, OH & Los Angeles, CA (PRWEB) December 31, 2013
As 2013 comes to a close, fitness sales representatives begin to see $ signs as individuals resolve to get in shape, lose weight, and do whatever it takes to get healthy. Rarely does the motivation last more than one month, and it's back to wishing we looked good in a swimsuit, rather than doing something about the situation.
However, Dr. Bob DeMaria, the Drugless Doctor, is confident 2014 will be different. On January 1st, Dr. Bob will begin #OptimalU, a year-long campaign based on his updated "Guide to Optimal Health". The book chronicles one health takeaway per day around meal-planning, detoxification, sleep, relationships, and more.
Oftentimes a barrier to becoming "healthy" is a lack of community, which is why #OptimalU will include live events on YouTube with Dr. Bob, frequent Facebook and Instagram updates where Dr. Bob encourages individuals to share their progress and general health questions with the hashtag: #OptimalU.
Lastly, on the #OptimalU section of http://www.druglessdoctor.com, Dr. Bob will highlight one non-profit per month and contribute a portion of "Guide to Optimal Health" sales to the respective organization.
Register For Free On Dr. Bob's Facebook Page (Includes First Chapter Download):
http://www.facebook.com/drbobthedruglessdoctor?v=app_427089034046612