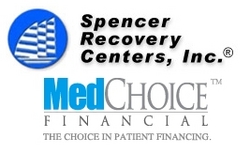 We hope that patients understand that our whole goal is to make this process as seamless and stress-free as possible
Laguna Beach, CA (PRWEB) December 22, 2009
To the delight of the recovery community as a whole, Spencer Recovery Centers, Inc. has recently announced its partnership with MedChoice Financial, a leader in the field of patient finance, to provide instant financing for those seeking treatment for drug addiction and alcohol detox. Whereas it once took days or even weeks to find out the terms of a patient's financial options, Med Choice Financial offers instant, online approval to those who qualify.
Already a preferred treatment provider for several well-regarded health networks, such as Anthem-Blue Cross and Aetna, Spencer Recovery, which calls California and Florida its home bases, believes that its partnership with MedChoice affirms its commitment to making the road to recovery as easy and hassle-free as possible. After all, addiction and alcoholism often wreaks havoc upon one's finances just as swiftly as it does upon his or her health, making the choice to seek drug rehab (not a cheap decision by any standards) that much more anxiety provoking.
"We know that drug addiction and alcohol abuse can sometimes leave us empty-handed as far as finances go, which is precisely why we at Spencer offer low-cost options and we are willing to help in absolutely any direction we can," assures S.R.C. Admissions Coordinator Sharon McDuffey. "We hope that patients understand that our whole goal is to make this process as seamless and stress-free as possible."
The goal, she reiterates, is to focus on recovery, not finance.
Instant financing through MedChoice Financial does just this. For the first time, clients seeking drug intervention for a loved one or treatment for themselves can discreetly enter their information into an online system and find out right away whether or not they have been approved. Through MedChoice's own website, potential clients can also roughly calculate the monthly payments they can expect to be making after completing their stay at Spencer.
In business for over twenty-six years, Spencer Recovery has always distinguished itself as a treatment network that believes in placing patients above profit. Since its foundation, Spencer Recovery has demonstrated its commitment to offering quality care to patients of all income levels.
###