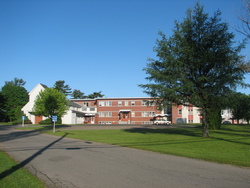 A piece of legislation like this has pros and cons and could impact those who require drug treatment
Trois-rivières, QC (PRWEB) July 14, 2009
Trois-Rivières, Québec (PRWEB) July 14, 2009 -- Narconon Trois-Rivieres supports local authorities removing drug dealers from the streets, but more drug rehabilitation is definitely needed. Just last month the Federal Government of Canada passed the first ever piece of controversial legislation that requires mandatory sentencing for anybody convicted of illicit drug dealing. Both the Conservative Party, led by Prime Minister Stephen Harper, and the Liberal Party joined forces to help pass this bill, which has already raised much debate. "A piece of legislation like this has pros and cons and could impact those who require drug treatment," comments Nick Hayes, representative for Narconon Trois-Rivieres in Canada, "even though the courts do send multiple offenders to Drug Treatment Court, this does not always mean they are receiving the proper help, or getting help right away."
According to Federal opposition parties, The New Democrats, Bloc Quebecois, and fellow Members of Parliament; they argued the bill was approved without any real evidence to show how effective it can be. There was concern no evidence was provided to prove that mandatory sentences will help reduce drug crimes, and no reports were presented to Parliament that demonstrated how much it would cost to jail thousands of convicted persons. There was also concern from MP's that no real plan was put forward as to how the current government would tackle the increased rate of drug related diseases within the prisons. Justice Minister Rob Nicholson was quoted saying in an interview with the Ottawa Star: "I can tell you, there is support for this bill from many ordinary Canadians who are quite concerned about drug abuse." He is right in what he says, close to 75% of Canadians support the bill, but other studies that were done by the Federal Justice Department show harsh sentencing does not work.
The newly changed Controlled Drug and Substance Act gives a mandatory minimum one year in jail for selling marijuana as part of any criminal organization. There is a mandatory minimum two-year jail term for selling hard drugs, and there is also a minimum six-month jail term for growing marijuana. The court does however have the ability to sentence multiple offenders to Drug Treatment Courts. However, how effective is that program? There have been no real studies done, and more treatment options can always be effective to help handle the problem to prevent re-offending. For more information about drug and alcohol treatment, visit http://narconon.ca/
(Ref: Works Cited Carole Goar "Ottawa embarking on its own war on drugs." The Star.com 12 June 2009: 6 July 2009 http://www.thestar.com/comment/article/649475)
© 2009 Narconon Trois-Rivières. All Rights Reserved.
NARCONON is a trademark and service mark owned by Association for Better Living and Education and is used with its permission.
###