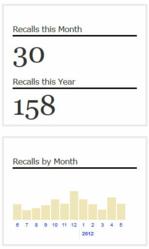 (PRWEB) May 24, 2012
Drugsdb.com, a source for health and drug information, today published an interactive infographic that visualizes recalls and market withdrawal data of drugs, food and medical devices. Using data and press releases from the Food & Drug Administration (FDA), Drugsdb has created an easy to use tool that makes recall information more accessible. This approach to visualizing recalls will allow consumers to better spot trends by gaining an insight into developing patterns in the data.
The infographic, which can accessed online at http://www.drugsdb.com/resources/fda-recalls/, maintains a count of total recalls for the current month and year and will be automatically updated as new recalls and withdrawals are issued. Visitors can also browse the recall data by day and by the company which issued the recall. Companies with the most recalls and the most common reasons for a recall are also tracked by the interactive application.
About FDA Recalls
Food and drug recalls in the U.S. are very common, more so with food, occurring several times a week. Consumers may not be aware of the recalls because most do not cause serious harm and do not make news headlines.
In most cases, a food or drug recall is initiated by the manufacturer or distributor of the particular item that has been deemed unsafe. Sometimes the FDA requests the manufacturer initiate the recall or initiates the recall itself. The primary role of the FDA in the recall process is making sure the public is aware of the items that have been recalled. It does this by keeping an up-to-date list of items on its website. The FDA also works with other governmental agencies to help alert the public of foods and drugs that are no longer safe.
A drug is recalled when either the drug manufacturer or the FDA determine that the drug is not safe for consumers. Drug recalls may occur if new research shows that it is dangerous, or causes dangerous side effects. The FDA also sometimes recalls a drug if a new safer alternative has been developed, or if consumers are using the drug improperly. In other cases, drugs may be recalled if it has been contaminated with a dangerous substance or if there was a manufacturing error. Foods are recalled when it is determined that they may make a person sick. For example, a food may be recalled if it is contaminated with an organism such as listeria which is a deadly bacteria found in uncooked meats and unpasteurized milk, or salmonella, a bacteria found in soil that can contaminant fruits and vegetables. In addition, some foods may be recalled if it contains a potential allergen or if the food allergen is not properly displayed on the label.
About Drugsdb.com
Drugsdb.com provides consumer health information on the most commonly used prescription and over-the-counter drugs and medications. For additional information, you can visit http://www.drugsdb.com/