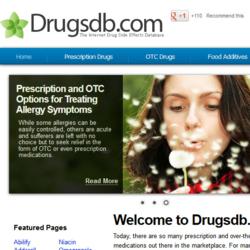 The HONCode certification signifies our commitment to readers worldwide in providing health information that can be trusted and is reliable.
(PRWEB) April 30, 2012
Drugsdb.com has announced that it recently received the prestigious HONcode certification from the Health on the Net (HON) Foundation, Geneva, Switzerland. The certification of the site now places it among other top health resources on the internet today.
The Health on the Net Foundation is a non-profit organization that has been working since 1995 to recognize internet-based websites that provide clear and reliable health information to the general public. Visitors to Drugsdb.com can now see the HONCode seal on all pages of the site and they can also visit the HON Foundation directly at http://www.hon.ch. Health On the Net continually monitors HONcode websites and conducts periodic reviews and re-evaluations. Only certified websites may display the HONcode seal, an active link to the online certificate, so visitors can verify compliance in real time.
"The receipt of the HONCode certification is certainly a step in the right direction for our website." says Kevin Clarke, Founder and Publisher of Drugsdb. "It signifies our commitment to readers worldwide in providing health information that can be trusted and is reliable."
In addition to HON, Drugsdb.com has also recently joined the Society for Participatory Medicine, which is a not-for-profit group that promotes clinical transparency between health care professionals and their patients when it comes to treatment options, medications and other aspects of healthcare. Drugsdb.com shares SPM's belief that patients who are well-informed in regards to their care are more likely to enjoy successful treatment than those who are not.
About Drugsdb
Drugsdb.com is consumer health website that is dedicated to providing accurate information about drugs, their uses, side effects and interactions to patients worldwide. For more about us visit, http://www.drugsdb.com/.
About Heath on The Net Foundation
The Health On the Net Foundation (HON) is a non-governmental and non-profit organization that advocates the appropriate use and presentation of useful and reliable health information online. HON is accredited to the Economic and Social Council of the United Nations and is funded by the State of Geneva, several European projects, the French National Health Authority (HAS) and the Provisu foundation.
"For 15 years, HON has focused on the essential question of the provision of health information to citizens, information that respects ethical standards. To cope with the unprecedented volume of healthcare information available on the Net, the HONcode of conduct offers a multi-stakeholder consensus on standards to protect citizens from misleading health information."