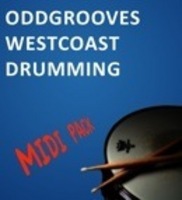 The Westcoast Drumming MIDI Library will save songwriters a lot of time thanks to its "song section" structure.
New Providence, PA (PRWEB) May 3, 2010
Stockholm-based drum loops production company OddGrooves releases their new MIDI library Westcoast Drumming as a tribute to the late 70's to early 80's era when session drummers such as Jeff Porcaro, Steve Gadd and Bernard Purdie could be heard on almost every record on the charts.
The library includes 7 full songs divided into sections such as choruses, verses, intros and endings in order to make it easier for songwriters to choose the most appropriate loops for their music. A total of 937 loops are included in the library.
All loops are recorded live in a total of 13 different tempos, ranging from 59 to 140 BPM, by Swedish professional drummer Magnus Brandell. To preserve the human feel, no quantization has been applied.
The drum loops are designed to work with any computer-based music workstation and comes in the following MIDI mappings: Toontrack EZdrummer/Superior Drummer, XLN Audio Addictive Drums, Steven Slate Drums, I-Map and General MIDI.
Priced at 27 US dollars, OddGrooves Westcoast Drumming is available for purchase at OddGrooves Loop Shop, where a selection of free drum loops are also available.
###