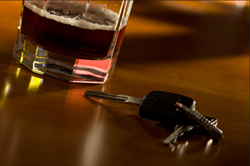 "Researchers involved with the project are working on two possible solutions that may save thousands of lives per year."
Newport Beach, California (PRWEB) January 23, 2013
According to the NY Daily News, new technology designed to keep drunk drivers off the road is currently being developed and may be in effect by 2021. The project, funded by the federal government and sixteen major automakers, has the potential to eliminate a vast majority of the 10,000 drinking and driving fatalities that occur on a yearly basis.
The concept is based on the premise that if a drunken driver is unable to start their vehicle, they will not pose a threat to other people on the road. Researchers involved with the project are working on two possible solutions that may save thousands of lives per year.
One is a mounted sensor close to the steering wheel that determines whether the driver's breath contains more than the United States legal limit of alcohol. The other is a button that utilizes infrared light to take samples from the driver's fingertip. Both methods are being designed to work as quickly as possible to eliminate any inconvenience for the driver.
"We identified what technologies are out there that could potentially be applied," Saouk said. "It's meant not to inconvenience the driver, so it has to be extremely accurate and very very fast," said Bud Zaouk, project leader.
According to the 2010 California Statewide Integrated Traffic Records System (SWITRS), 972 people died and 16,884 people were injured as a result of alcohol related collisions in California for that year. Orange County, California suffered forty five of those fatalities.
Randy Collins, MacGregor & Collins Attorney, has assisted several California clients with their DUI defense. "Many of the devices currently being used by law enforcement could be considered inaccurate. Our criminal defense attorneys have been able to expose potential errors involved with the use of breathalyzers and other such devices."
If this new technology is proven to provide a reliable reading, we are in full support and are very excited about its potential," said Attorney Collins.
The project, DADSS, was begun in 2008 and is reported to have the ability to implement within eight to ten years.
About MacGregor & Collins, LLP
MacGregor & Collins, LLP is a criminal defense law firm based in Orange County, California. Randy Collins and Ronald MacGregor fight tirelessly to provide their clients with exceptional representation against DUI and other offenses.
For more information about their Newport Beach criminal defense lawyers, click here to visit their website.
MacGregor & Collins, LLP
1000 Quail Street, Suite 110
Newport Beach, California 92660
(949) 250-6097