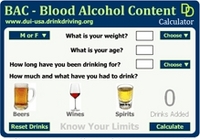 A shocking 70% of American Adults do not know the legal BAC limit for driving in their state and an alarming 78% do not know how many alcoholic drinks it would take for them to be over the legal limit. Help us raise awareness by using our BAC Calculator.
Pompano Beach, FL (PRWEB) November 10, 2009
Each year more than 17,000 people are killed and over half a million people are injured by drunk drivers. 3 in every 10 Americans will be involved in an alcohol related crash at some point in their lives. Statistics released by the FBI (Federal Bureau of Investigation) Uniform Crime Reports show that approximately 1.5 million Americans are arrested for drunk driving every year.
In a bid to raise awareness and help prevent drunk driving, DUI-USA.Drinkdriving.org have released a FREE BAC Calculator in order to educate American citizens on just how much (or rather, how little) alcohol is needed in order to impair a person's driving ability and increase their BAC levels.
The BAC calculator is completely free to use and unlike other online BAC calculators that are available, this one can be added to any website or webpage on the Internet in order to reach the widest possible audience and educate as many people as possible.
A DUI-USA.Drinkdriving.org spokesperson stated "Many people are under the false impression that after consuming only a couple of alcoholic drinks, they will be ok to drive. It can take less than many people may think in order for their driving ability to become impaired and for their BAC (blood alcohol content) to reach and surpass the legal prescribed limit".
They went on to say "care should be taken when using online BAC calculators and they should never be relied upon to determine exactly how many alcoholic drinks a person can consume before they can safely and legally drive. They provide general results based on scientific research and average biological values. They are intended to be used as a rough guide for educational and preventative purposes. The only precise and failsafe way to determine an individual's BAC level at any given time is to use a reliable breathalyzer approved by the DOT, NHTSA or FDA."
Most countries and jurisdictions worldwide have maximum prescribed legal BAC (blood alcohol content) limits and driving above those limits is illegal. Penalties for doing so include imprisonment, large fines, lengthy driver's license revocation or suspension, house arrest, community service, ignition interlock restrictions, DUI schools, alcohol treatment programs and vehicle forfeiture.
These penalties will pale in comparison to the guilt, shame and remorse a person will have to live with if they cause an accident seriously injuring someone or causing a fatality as a result of drunk driving. In 2008, the Fatality Analysis Reporting System by the NHTSA reveals that 11,773 persons were killed by drivers with a BAC of 0.8% or above.
All states in the U.S have 'per se' laws that make it illegal to drive with a blood alcohol content of 0.08% or above. Many states also have lower legal BAC limits for inexperienced young drivers, professional drivers and commercial drivers. In most states drivers can still be prosecuted, regardless of their BAC levels, if their driving ability is visibly impaired.
American citizens need to know their states DUI laws and BAC limits and ensure they uphold the law by not driving while impaired or above the legal prescribed limit. Citizens travelling abroad are strongly urged to keep up to date with worldwide BAC limits. If in doubt, the safest and most sensible decision is not to consume any alcohol at all before driving.
DUI-USA.Drinkdriving.org is committed to raising public awareness about the dangers and possible consequences of drunk driving for all those involved. Their main aim is to provide a comprehensive source of information and an online community where any person who has been affected by drunk driving in any way, can come to share ideas and help and support one another. This not only includes innocent victims of drunk drivers and their families but actual drunk drivers themselves.
In a closing statement their spokesperson stated "In a large number of drunk driving cases, the only people seriously affected, thankfully, are the drunk drivers themselves. Everyone deserves a second chance. We do not seek to punish and alienate people. We endeavour to inform, empower, help, support and educate people in the hope that they will make wise choices regarding the consumption of alcohol and driving, both now and in the future. This will ultimately contribute to reducing DUI recidivism and help make the nation's roads a safer place".
###