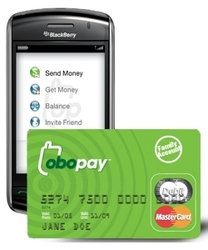 " Now my son knows that if he ever needs to pay for a cab after drinking, I've got him covered. No questions asked"
Naples, FL (PRWEB) March 9, 2010
"Your Designated Driver on Me" is a nationwide designated driver program that encourages family and friends to pay for each other's cab fare, if they ever need to use a cab after drinking--no questions asked.
The program provides the means to take away any excuse for driving drunk by providing funds for cab fare in advance or by immediately sending the funds by mobile phone when needed.
This simple solution uses innovative phone payment technology available through the Obopay Family Prepaid MasterCard service. The card is reloadable and welcome at millions of places that accept Debit MasterCard and you can get cash from any ATM that displays the MasterCard®, Maestro®, Cirrus®, or STAR® Acceptance Marks.
The fact that even those with breath alcohol concentrations below the legal limit are responsible for thousands of fatalities each year is reason to take a cab even if only slightly impaired.
"It is our hope that having a prepaid alternative provided by family and friends will change attitudes and save lives," says Patrick Moorton of YourDesignatedDriveronMe.com. "It's an inexpensive hedge against costly DUI/DWI fines, and embarrassing jail time. Now you can send money to friends and family when they need it the most. It could save the life of someone you know".
The program can be used in all 50 States. There are opportunities for collaborating with employers, community organizations, non-profit organizations, Colleges, Universities, as well as Federal, State, and local government agencies
The goal is to reduce traffic-related deaths and injuries caused by impaired or drunk driving.
Please visit the website at http://www.yourdesignateddriveronme.com for more information.
# # #