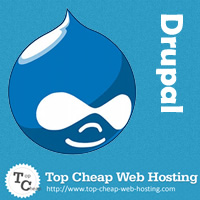 (PRWEB) March 21, 2012
The leading web hosting review site Top-Cheap-Web-Hosting.com announces to launch a new section about Drupal Hosting Tutorial with their Drupal Hosting review landing page. The Drupal Tutorials are written to help people find a Drupal web hosting easier by a series of web host comparison from support to Drupal prerequisite, Drupal installation and migration instruction, and Drupal website search engine optimization.
Drupal is the most popular software used to build weblog and large content based websites widely. The typical large sized clients include AOL Corporate, New York Observer, and Sony Music. Drupal is quite easy to create a website or blog because of the visual and easy-to-use user interface. Meanwhile, there are over thousands free Drupal themes, widgets and modules in the community that webmasters can customize their preferable websites easily.
In fact, finding a reliable web hosting for Drupal is not easy as using it, even for some experienced PHP and Drupal developers. The choice of web hosting based on the over-advertising features of the web hosts is not trust-worth. The handy tutorials from Top-Cheap-Web-Hosting.com are all written based on the practical experience from knowledgeable technicians, to help people select a proper domain name, find the best web host, create a Drupal site, customize Drupal site, manage site content, and promote site over the Internet.
TCWH is designed to be a trust-worth website for people to find the best web hosting provider by the direct comparison, expert insights and customer reviews. TCWH had come out a sorted list of Top 10 Drupal Hosting based on the following criteria, besides the Drupal tutorials.
#1 - Drupal integration for how easy people can get start their website.
#2 - Drupal themes, widgets and extended modules included with the Drupal web hosting plan.
#3 - Drupal optimization features including GZIP, URL Rewrite, etc.
#4 - affordable Drupal web hosting price.
To learn more about choosing a Drupal web hosting, visit http://www.top-cheap-web-hosting.com/linux-web-hosting/best-drupal-hosting/
About Top-Cheap-Web-Hosting.com
Top-Cheap-Web-Hosting.com is an independent web hosting review website, rating web hosts based on the real practice and the feedback collected from real customers, designed to help people find the best web hosting deal at an affordable rate.