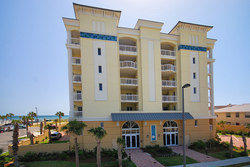 "Excess housing inventory is now getting rapidly snapped up so the market is stabilizing and price recovery can begin."
Jacksonville, FL (PRWEB) September 7, 2010
Cranewoods Development LLC announced the sellout of all remaining bank owned condominiums in the Serena Point project located in Jacksonville Beach, Florida. The seven-story Serena Point is a luxury ocean view property of seventeen condominiums located in the walkable and pedestrian friendly area of Jax Beach just east of A1A. Fourteen of the units had become bank owned due to foreclosure during the real estate downturn. Cranewoods was hired as the bank development consultant after the original developer defaulted and bank foreclosure of the fourteen unsold condominiums had taken place.
"Serena Point is a great project that was caught in the Florida real estate slide" said Andrew Howe of Cranewoods. "The economic downturn pushed the prices down to bank release prices well below builder's cost, so the new owners are getting tremendous value and bang for their buck." The Serena Point condominium project includes secure garage parking, large units, oceanfront views and other luxury amenities not usually expected at the purchased price range.
Howe adds, "Excess housing inventory is now getting rapidly snapped up so the market is stabilizing and price recovery can begin."
Statewide, this is the seventh consecutive quarter that sales have risen in Florida. And in the second quarter of 2010, sales of existing condominiums rose 45% over the previous year. "There's still price fluctuation but the sales trend is clear and real," said Eric Miller with Keller Williams Realty - Atlantic Partners who worked with Cranewoods to sell the final units in the complex.
Howe understands trends and how to start them. Over a decade ago, he and his project development partners brought high-rise luxury oceanfront condominiums to the then distressed Jacksonville Beach market with the Eastwinds complex. The Eastwinds combined quintessential Florida architectural design with cutting edge contemporary amenities and details to an award winning level. That project's strong design elements and scale set the bar high for the many area developments that followed.
Today, Cranewoods project and financing expertise is available through their real estate development consulting practice. Their clients include developers, investors, borrowers and lenders on the East Coast and into the Midwest.
Cranewoods is clearly bullish on current trends. In 2009 they expanded their consulting services to the Greater Cincinnati, Ohio real estate market and are currently exploring new real estate development opportunities there as well. Howe says, "Stay tuned. We're excited about the future and actively looking for new real estate investment opportunities." Recently, Cranewoods is leading the effort to purchase and revitalize a condo project in Cincinnati's downtown historic district which will become the McFarland Lofts.
About Cranewoods Development:
Andrew Howe, President of Cranewoods Development, is an award winning real estate developer, general contractor and consultant with over 35 years experience. Cranewoods offers full service real estate consulting to lenders and investors. Services include foreclosure and bank loan workout solutions, court appointed receiver, turn-key development management, construction management and general project problem solving. To explore Cranewoods further, visit: http://cranewoods.com or follow them on Facebook at http://Facebook.com/CranewoodsDevelopment
Jacksonville, FL | Cincinnati, OH.
PH: 513-257-0749 | 904-758-3434
###