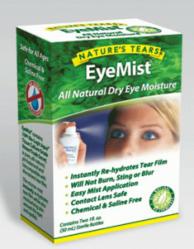 A natural remedy for dry eyes is now available from health and wellness company, True Healthy Products of Florida.
(PRWEB) February 22, 2012
An all natural dry eye remedy is now available from health products company, True Healthy Products. For those with eye moisture problems, this is offered as a safe and natural instant solution to the problem.
To learn more about the company's Nature's Tears EyeMist, visit their website here:
http://www.truehealthyproducts.com/products/health-wellness/natures-tears-eyemist
True Healthy Products decided to add this item to their products line because it is an all natural solution to dry eyes. According to the manufacturer of the product, Nature's Tears Eye Mist is a patented ultra-fine mist that penetrates the tear film's Lipid Layer to add soothing moisture to the Aqueous (Water) Layer.
The new product also has a unique method of use that can more easily be administered to people who are unable to apply topical eye medication themselves due to incapacitation or a lack of depth perception. The soothing mist is a controlled, fine vapor that is gently introduced to the eye surface without an impact shock.
True Healthy Products, in addition to adding the new Nature's Tears EyeMist has added several other new natural home remedies to their line, including a drug free remedy for water trapped in the ear, and a new appetite suppressant.
For more information about these or other healthy products offered by the company, please visit their company website, http://www.truehealthyproducts.com.
True Healthy Products
2460 North Courtenay Parkway, Unit #210
Merritt Island, FL 32953
888-400-2920
support(at)truehealthyproducts(dot)com
http://www.truehealthyproducts.com
###