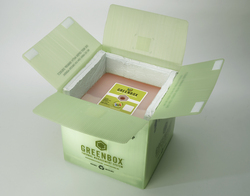 I am pleased with this technically based, data-supported solution, which is answering an unsatisfied need in the shipment of frozen medicinals while being environmentally friendly and with economical value
Minneapolis, Minn. (PRWEB) April 28, 2009
Think dry ice is the only way to protect your deep frozen product as it travels between destinations? Not anymore. Today, Entropy Solutions, Inc., a Minneapolis-based thermal technology development company, introduced a new variation of its patented PureTemp™ renewable phase change material (PCM) that replaces dry ice and maintains a consistent payload temperature of -40°F.
The PureTemp -40 solution is the world's first true dry ice alternative, and the answer to age-old issues that surround shipping with dry ice. For example:

While dry ice can be used one time only, PureTemp can be used more than 20,000 times with no thermal degradation
While dry ice emits carbon dioxide, PureTemp produces zero emissions and is a 100 percent renewable, biodegradable and earth-friendly phase change material
While dry ice shipments face restrictions due to carbon dioxide emissions, PureTemp is not restricted in any mode of transportation as part of the GREENBOX™ Thermal Management System
While dry ice complicates the handling of a shipment, such as replenishment needs, PureTemp requires no special handling
While the use of dry ice may alter the pH levels of certain drugs, PureTemp is safe for use with any product - for example, pharmaceuticals, plasma, clinical devices or even food items - that needs to be kept at deep-frozen temperatures throughout the duration of a shipment
"We have high-value, sensitive products that must be shipped within the deep-frozen temperature range to maintain efficacy, and were looking for a solution that addressed the adverse effects of dry ice, while providing a more cost-effective, environmentally friendly option," said Donnie Wilson, senior manager for engineering at Amgen. "We have been very pleased with PureTemp's performance - early results demonstrate that, when used in the GREENBOX Pallet Shipper, it maintains our required temperature while our packages are in transit."
"I am pleased with this technically based, data-supported solution, which is answering an unsatisfied need in the shipment of frozen medicinals while being environmentally friendly and with economical value," said Dr. Rafik Bishara, Ph.D., chairman of the Pharmaceutical Cold Chain Interest Group (PCCIG), Parenteral Drug Association (PDA). "In addition, I am excited about the results of the cooperation between Amgen and Entropy Solutions, which resulted in finding an innovative cold chain management solution. I believe it is the beginning of a new trend that will assure the quality, integrity, potency and efficacy of frozen pharmaceuticals are not compromised in the distribution channels."
"We are extremely encouraged about the prospects for PureTemp -40 and believe it could do for temperature-sensitive shipping what hybrid cars can do for the automotive industry," said Eric Lindquist, president of Entropy Solutions. "Being able to provide customers a safer, more cost-effective and more eco-friendly option for frozen shipments is very rewarding."
For more information
To learn more about PureTemp -40, please visit http://www.entropysolutionsinc.com.
To learn more about GREENBOX, please visit http://www.greenboxsystems.com.
About Entropy Solutions, Inc.
Entropy Solutions, Inc. is a thermal technology development company with its global headquarters based in Minneapolis. The company's mission is to provide renewable, innovative, cost-effective, temperature-controlled solutions for the shipping, construction, textile, healthcare and alternative energy industries. Entropy Solutions' GREENBOX™ technology is an innovative and next-generation passive thermal breakthrough in highly efficient shipping containers, intended for cold chain operations. Using PureTemp™ renewable phase change technology, GREENBOX is capable of maintaining narrow temperature ranges for record durations, while reducing packaging waste.
###