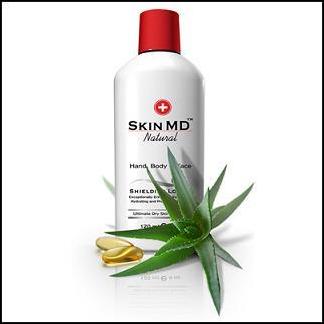 Nearly everyone's skin is exposed to harmful chemicals on and off the job
BEVERLY HILLS, CA (PRWEB) November 14, 2006
November is National Healthy Skin Month, the American Academy of Dermatologists' designated time of year to focus on education initiatives that showcase new treatment options for dry skin, eczema, psoriasis, acne and aging skin. However, despite new skin treatments, the incidence of skin disease is accelerating. Ten years ago there were 22 million visits to dermatologists, with three-quarters of them being repeat visits. Today it is estimated that over 30 million people in the U.S. suffer from the most common of skin problems - dry skin, eczema, psoriasis and rosacea. While many advances have been made, it is obvious that effective skin care treatment remains elusive. However, there has been one major skin care breakthrough that offers dermatologists and skin disease sufferers new hope - shielding lotion.
An entirely new concept in natural skin care, shielding lotion is now recommended by hundreds of dermatologists. It does one thing that other skin treatments do not - protects the skin from the chemicals and other irritants that may well be causing the condition.
According to Dr. Peter Helton, cosmetic dermatologist and medical director of the Helton Skin and Laser Institute in Newport Beach, California, protecting against irritation from chemicals is one of the most important factors to address when dealing with skin problems. "Your skin wasn't designed to deal with dish soap, bleach, hair coloring and thousands of other everyday chemicals. Many common cleaners and solvents specify the wearing of gloves. Always follow such advice. Even products that don't require gloves can still suck the oils and moisture out of the skin, leaving it dry, cracked and irritated. This even applies to antibacterial soap."
However, wearing gloves is not always possible and, unfortunately, most other skin care options such as creams and lotions are not only ineffective, they usually contain some of the same chemicals that are causing or exacerbating the condition - which is where shielding lotion comes in.
"Nearly everyone's skin is exposed to harmful chemicals on and off the job," said Dr. Helton. "Most skin products are simply oil based or lanolin based and so they sit on top of the skin where they can wash right off when you clean your hands or do the dishes. Shielding lotion, on the other hand, does not wash away since it bonds with the outer layer of skin. It acts as a protective layer that keeps your own natural moisture inside while repelling outside chemicals. It is gentle and suitable for all skin types and is a great way to prevent many of the skin problems that wind up in visits to the doctor. That is why shielding lotions are so important - they can help counteract the effects of many common irritants that we come across daily."
As skin disease has now reached near epidemic proportions - the National Institutes of Health estimate that eczema alone affects 15 million people in the U.S. - the need for dry skin care solutions that do not cause further irritation has accelerated. Shielding lotion could be the skin care solution that turns the tide of the rising skin disease numbers. Perhaps next year's National Healthy Skin Care Month will report relief for millions.
CONTACT:
Sally Falkow
1-323-882-8125
###