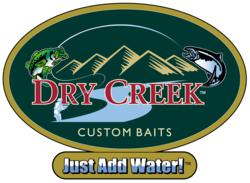 Murtaugh, Idaho (PRWEB) October 27, 2011
Dry Creek Outfitters is pleased to announce that their custom made bass baits will soon be sold in C-A-L Ranch Stores. Starting in January 2012, Dry Creek Custom Baits will be sold in all locations. C-A-L Ranch has 15 stores located in 4 states. In Idaho the locations include Idaho Falls, Rexburg, Blackfoot, Pocatello, and Burley. In Utah there are 9 locations including Logan, Spanish Fork, American Fork, Farr West, Tooele, Cedar City, Layton, Vernal, and West Jordan. There is a store located in Elko, Nevada, and a new store in Prescott, Arizona; which is currently carrying the Dry Creek Outfitter's products.
Products to look forward to seeing in C-A-L Ranch Stores are Dry Creek Outfitter's bass and trout tubes, grubs, crawdads, and 3 ½" and 4 ½" platypus. The selections of baits will vary to suit each location's needs to fit their local fisheries.
###