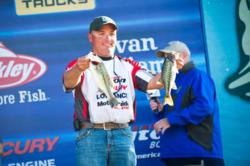 I like to always acknowledge and appreciate those who have helped me to get to where I am today
Murtaugh, Idaho (PRWEB) November 15, 2011
On November 5, 2011 six anglers' dreams came true. One of that six was Josh Polfer of Nampa, Idaho. After a long hard road to the Bassmaster Classic 2012, Josh reached his destination. The road first started for Josh by making the BASS Federation Nation Idaho State Team proud during their 4 tournaments earlier this year. Josh continued his success by qualifying for the BASS Federation Nation Northwest Divisionals on Lake Navajo in New Mexico. Josh was now the BASS Federation Nation Northwest Divisional Champion and headed to the BASS Federation Nation Championship on Ouachita River in Monroe, Louisiana.
The championship tournament took place November 3-5, 2011. The tournament consisted of 6 divisions with 8 to 12 team members. The number one angler from 5 different divisions across the U.S. and 1 from overseas would be able to continue on to the Bassmaster Classic on Red River in Shreveport, Louisiana on February 24, 25, 26, 2012.
While at the BASS Federation National Championships, Josh Polfer had 3 great days of fishing to win the Western Division. Josh weighed in 11 lbs. 3 oz. on the 1st day, 8 lbs. 3 oz. on the 2nd day, and 8 lbs. 3 oz. on the 3rd day. Josh's total weight was 27 lbs. 10 oz.; his next closest competitor weighed in with 17 lbs. 2 oz.
During 14 days of pre-fishing with his dad, Jeff Polfer, Josh found that a crankbait with a Dry Creek Outfitters' 5" Green Pumpkin/Pepper money grubber and a Dry Creek Outfitters' 3 ½" Yuxley platypus brought him great success that continued on to win him an invitation to the Classic. "I think I was the only crazy guy fishing with a grub," said Josh, but thinking outside the box really paid off.
Josh has been using Dry Creek Custom Baits since Dry Creek Outfitters was established 7 years ago. "I like to always acknowledge and appreciate those who have helped me to get to where I am today," Josh said, "If it wasn't for Dry Creek Outfitters and their support, things would have been a lot more difficult." Josh and Brad Perkins, owner and innovator of Dry Creek Custom Baits, have worked together to support one another through the years; and they have built a relationship that equals success.
Josh's road to the Classic is the hardest way to qualify. "It's nice to know that hard work does pay off," he said. The six anglers that won their division at Nationals didn't get the chance to qualify for the Classic by fishing the Bassmaster's Open tournaments like the other anglers going to compete; they won their invitation by being champions in tournament after tournament.
Josh is the 2nd angler in a row to win the Western Division at Nationals from Idaho. Excited to represent Idaho and all those who support him, the Idaho angler will compete in the Classic for the $500, 000 prize. Josh said that he will fish with Dry Creek tubes, money grubbers, and platypus to reach the goal of winning the "superbowl" of fishing.
"I'm excited to have my wife Sabrina and two boys, Cooper, age 9 and Riley, age 4,by my side while I compete in this lifetime goal of winning the Bassmaster Classic."
###