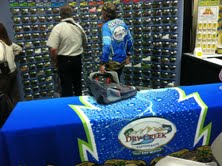 (PRWEB) January 31, 2012
Dry Creek Outfitters successfully kicked off 2012 by traveling to the Big Rock West Dealer Show the second week in January. The Mandalay Bay Convention Center in Las Vegas, Nevada hosted the show where vendors both displayed and sold their products to their dealers. Brad Perkins, founder of Dry Creek Outfitters, was able to travel to the show in both capacities. As a dealer and a vender, he is able to sell his Dry Creek Custom Baits as well as buy products from other vendors attending the show.
"There are hundreds of dealers and vendors at the Big Rock Show, but Chris McBride, sales director of Big Rock Sports, and the Big Rock staff are able to do an excellent job attending to the needs of the dealers and the vendors," said Perkins.
Perkins attends the show with John Lancaster of Kimberly, Idaho. Lancaster, a Dry Creek Outfitters' prostaff member, has been attending the Big Rock Show with Perkins since Dry Creek Outfitters has been established. While Perkins is going booth to booth as a dealer, Lancaster stands post at the Dry Creek Custom Bait booth. "John is very knowledgeable about Dry Creek's custom baits, and is also very knowledgeable about fishing." "He has been great help to those inquiring about Dry Creek's baits as well as a great help to me," Perkins said.
As the Big Rock West Dealer Show 2012 came to a close for Dry Creek Outfitters, seven new stores had placed orders for Dry Creek Custom Baits. Several more stores throughout the western United States have picked up order forms to stock their stores with Dry Creek Custom Baits. "It's always great to see our vendor and dealer friends at the Big Rock Show every year," said Perkins. Based on the great results from the Big Rock West Show, Dry Creek Outfitters, a family owned business, looks forward to a new year of growth and success.
###