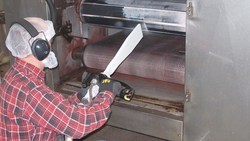 Lakeville, MN (PRWEB) February 11, 2010
Although 2009 was a tough year for many small businesses, it was a year of steady growth for Midwest Dry Ice Blasting. As the work and sales increased, the need for a new, larger facility in which to perform their dry ice blasting services became evident. The larger facility allows Midwest Dry Ice Blasting to perform larger, in-house, jobs.
Although much of their industrial cleaning services take place at the customers' locations (power plants, ethanol plants, etc) there were enough in-house job requests to justify the larger facilities. The new facilities enclose 2500 square feet, a growth of 576 square feet compared to the previous location.
Along with being able to easily handle their existing jobs, Midwest Dry Ice Blasting hopes that the new facilities will open up their eligibility for a plethora of new work. When in the past, the small dry ice blasting company might have been overlooked for jobs that required a larger facility; this should no longer be the case.
In addition to their in-house work, Midwest Dry Ice Blasting will continue to perform on location blasting services as well as provide companies with the proper training for dry ice blasting equipment rentals for the do-it-yourself jobs. The larger facilities allow for a greater ability to host training sessions, house more equipment, and dry ice blast larger projects.
About the Company: Midwest Dry Ice Blasting has been providing commercial cleaning services since 2008. The company services the greater Midwest area including, but not limited to, Minnesota, Iowa, Michigan, Wisconsin, North Dakota, South Dakota and Illinois. For more information please visit http://www.midwestdryiceblasting.com or call 952.288.5300
###