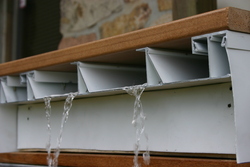 Our continued goal as an organization is to educate the marketplace about the efficacy of our innovative products for outdoor decks.
Gainesville, GA (PRWEB) March 25, 2010
Wahoo Decks' newest product DryJoistEZ, introduced in January at the 2010 International Builders Show, has been recognized by LBM Journal as one of 31 hot products from this year's show. A sister product to DryJoist, the first structural deck drainage system, DryJoistEZ serves triple duty as the structure of a deck, a waterproof solution and a finished ceiling with a new and improved traditional bead board appearance.
Already one of the 13 winners of Architect magazine's third annual R+D Awards, DryJoistEZ is made of structural aluminum. A sustainable alternative to traditional wooden deck joists, aluminum is fully recyclable and is impervious to rot, decay, insects and fire. Able to be installed in any weather conditions, it is perfect for balconies and decks for both residential and commercial applications. DryJoistEZ is 100% waterproof and is backed by a limited lifetime warranty and an industry leading leak-proof guarantee.
"Our continued goal as an organization is to educate the marketplace about the efficacy of our innovative products for outdoor decks," says Jon Bailey, Vice President at Wahoo Decks. "Having DryJoistEZ being named one of the hottest products of 2010 by LBM Journal, a leading publication for the LBM distribution channel, and receive the other awards it has received, really helps to achieve that goal."
DryJoistEZ was engineered to be easy to handle and cost effective by containing only two components. The DryJoistEZ main and multi-joist components are structural and capable of spanning 6' post to post on a single span and 8' post to post on a multi-span, eliminating the need for wood joists 12 or 16 inches on center. The main and multi joist components are extruded in lengths up to 24 feet long and include 5" water channels on each one. These water channels run uninterrupted the entire length of the aluminum joist so there is no need for gaskets, seals or silicone sealants. The DryJoistEZ aluminum joist system replaces the need for marine-grade ply, rubber (glued or torched) membranes and sleeper systems traditionally used in balcony or deck waterproofing.
The underside of DryJoistEZ is precision extruded with grooves so that when the planks are interlocked, they resemble a traditional bead board pattern on the ceiling of the area below the deck. Each plank is powder coated with a protective finish that can be used as either the finished coat or the base coat if another color is desired.
DryJoistEZ and other products from Wahoo Decks can be special ordered through home centers and lumberyards throughout the United States and Canada.
Headquartered in Gainesville, Georgia, Wahoo Decks is a leading manufacturer of award winning outdoor decking products. Wahoo products have been engineered to be uniquely low maintenance and more resistant to natural elements than traditional decking products. Wahoo Decks also offers Wahoo Rail, a complete line of commercial grade aluminum railing and AridDek, a waterproof aluminum decking product. Additional information about Wahoo Decks can be found on http://www.WahooDecks.com.
# # #