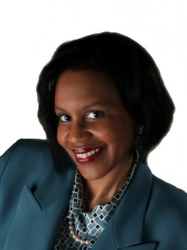 Columbia, SC (PRWEB) July 27, 2011
Modern anxieties, be they related to financial hardship or to unstable employment, make it more difficult than ever to take charge of one's life and be proactive in making it better. Nevertheless, it is precisely this course of action that many motivational speakers and self-help gurus will recommend. It may seem as though it is easier said than done, but one such motivational leader, Dr.Yvonne Corppetts, is doing everything she can to put the power in the hands of her readers and students, most recently in the form of an informative and empowering blog, called Somethingtotalkaboutblog.com.
Regarding the blog, the local author and speaker Corppetts says, "This is very much meant to be an online extension of what I do with my books and my public speaking engagements. At the end of the day, I am in the business of motivation, of helping everyday people find the vision and purpose for their life and to be proactive in taking that vision and turning it into a reality. I want to offer my guidance and support in whatever way I can, which is what this blog is for."
Corppetts says that Somethingtotalkaboutblog.com will focus on many of the same themes and recurring topics as her recent book, Take Charge for Major Success. Some of these themes include empowerment, motivation, vision/purpose, life balance, and self-esteem.
With a PhD in Education and degrees in social work, sociology, and psychology, Corppetts is quick to note that this both blog and book avoid inspirational vagueness, but also steer clear of overt academia. "I want to help people have the best life possible by showing them that they ultimately need to accept that turning their life around is something only they can do. I want to encourage people to take responsibility—as the book says, to take charge for major success. So on the one hand, it's important that the blog communicates in a way that's authentic to real-world struggles, but it's also important that it isn't dry or philosophical. I want to engage with people where they are in order to fully empower them."
This has been Corppetts' goal from the beginning, and the new blogging endeavor is largely an expansion of the motivational services she has offered throughout her career. That means the book but also her public speaking engagements, which the author still holds dear.
"I like doing the public speaking engagements because it allows me to tailor my approach to the specific needs or goals of the company or faith-based group I'm speaking to," says Corppetts. The blog is important to her overall mission, however. "Not everyone can make it to one of the events, and some people are just going to respond better to something like the blog. I'll be talking about similar issues on my blog, but from different points of view and in different ways." Corppetts believes the blog will prove enriching for her regular readers and newcomers alike.
Take Charge for Major Success was published by EDGE Publishing Company and is still available in both physical and Kindle eBook formats. For more information on the book, or to contact Dr. Yvonne Corppetts for information on her presentations or speaking engagements please visit http://www.dryvonnecorppetts.com or email info@dryvonnecorppetts.com. The blog, meanwhile, can be accessed via http://somethingtotalkaboutblog.com.
ABOUT:
Dr. Yvonne Corppetts is an empowering public speaker, educator, motivator and author of the self help book Take Charge for Major Success. She is a member of the National Speakers Association and Global Speakers Federation, and she also served in the U.S. Army and U.S. Air Force for twenty years. A former Commander with an extensive background in behavioral science, she has worked with a variety of individuals from different walks of life and backgrounds, and also delivers inspiring presentations to corporate gatherings and faith-based groups. Her presentations and writings include information on escape and evasion techniques that help readers and audience members rise above mediocrity.
Corppetts has written several articles on personal growth and professional development. She holds a PhD in Education from Capella University as well as degrees in social work, sociology and a minor in psychology. She lives in Elgin, SC.
Dr. Yvonne Corppetts can be found online at http://www.dryvonnecorppetts.com.
Book purchasing information, press inquiries and appearance requests should be directed to info(at)dryvonnecorppetts(dot)com or by calling (803)727-0344.
# # #