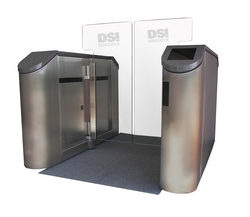 Bastrop, Texas (PRWEB) February 19, 2009
Designed Security, Inc. (DSI) announces the new Invisigate Glass Barrier Optical Turnstile, a unique security solution that delivers tight access control in a way that complements the aesthetics of today's building lobbies. Invisigate enables high-speed throughput, while the glass barriers indicate to pedestrians that authorization is required to enter the secured area.
Invisigate Glass Barrier Optical Turnstile offers the same customization as other DSI turnstiles, giving organizations the flexibility to meet the unique access control needs of each installation. The barrier starts 4" from the floor and can be configured to be as high as 6'8", providing a full-height lockable barrier. The turnstile is field-configurable for card-in/card-out or card-in/free-exit operation with no additional programming.
This unique turnstile incorporates tailgate detection technology with no nuisance alarms. It also provides an optional "hard-lock" barrier for after-hours operation, reducing the number of personnel required to monitor your building's access points.
To complement the surrounding interior design, Invisigate is available in custom colors and finishes, and offers custom glass etching on the panels. The ADA-compliant unit fits in the same footprint as DSI's ES831 Barrier Arm Optical Turnstile.
DSI is currently the only U.S.-based company offering a full-height glass panel optical turnstile, and the only company that follows an ANSI specification in the design of the barrier optical turnstile. Backed by DSI's industry-leading reliability and customer service, Invisigate Glass Barrier Optical Turnstile delivers high-performance security with flexibility and style.
###