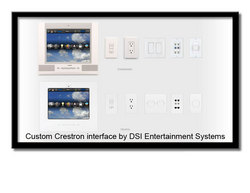 ...the reaction is always the same. Once they see it installed, TRUFIG becomes a "must-have" product that they can't wait to tell their clients about.
West Hollywood, CA (PRWEB) February 2, 2010
DSI Entertainment Systems, a leading Electronic Systems Contractor specializing in home theater, home automation, and custom audio video installation is proud to have one of the first showrooms in the country to display the new TRUFIG flush-mounting system in their West Hollywood Experience Center showroom. TRUFIG is a revolutionary mounting system that allows items such as light switches, electrical outlets, phone/data jacks, Lutron HomeWorks SeeTouch keypads, Crestron touchpanels, volume controls, loudspeakers, and more to fit flush with the finished wall surface. TRUFIG presents the ability to take technology supplied by various manufacturers and provide a uniform industrial design, consistent color, and a mounting process to achieve a perfectly seamless installation into a wall or ceiling.
With the highly successful launch of the flangeless flush-mount "Architectural Series" loudspeakers launched by Sonance in 2007, the next evolutionary step was to take this clean look to standard home devices. TRUFIG, a sister company of Sonance, collaborated with architects and interior designers for many months to round out the product line.
"Through exposure to the Design Community, we realized that architects and interior designers go to great lengths to minimize the visual impact of common devices like receptacles, structured wiring jacks, lighting control keypads, etc. By tweaking a mounting technology that was pioneered for Sonance Architectural Series Speakers, we've brought a refined, repeatable process to make those devices disappear into the design of the space." says Jason Sloan, Vice President of Sales at TRUFIG.
Says Josh Christian, Vice President of Marketing of DSI Entertainment Systems, "World-class architects and interior designers call on us to deliver their clients high-end technology that disappears. Dozens of these professionals have been through our showroom to see the TRUFIG implementation and the reaction is always the same. Once they see it installed, TRUFIG becomes a 'must-have' product that they can't wait to tell their clients about."
ABOUT TRUFIG
Headquartered in San Clemente, California, TRUFIG was founded by Scott Struthers and Geoff Spencer who introduced the world's first in-wall loudspeaker system to the consumer electronics market in 1982. With TRUFIG, never before has a homeowner been offered the ability to take equipment from many different manufacturers and integrate them seamlessly into the décor and design of the home. By providing uniform color and industrial design, TRUFIG ensures that every device in the home matches perfectly while providing the ability to install the products absolutely flush into any given surface. For more information contact TRUFIG at inquire(at)trufig(dot)com, or, if in the Southern California area, inquire at dsisales(at)dsientertainment(dot)com
ABOUT DSI ENTERTAINMENT SYSTEMS
DSI Entertainment Systems is a leading Electronic Systems Contractor known for award-winning installations of home theatre systems, media rooms, home automation-systems integration–smart home control systems, and lighting control systems. They are a recipient of numerous awards, including the Consumer Electronics Associations' TechHome Mark of Excellence "Platinum Innovation Award", Electronic House's "Best Home of the Year" Award, Creston's "Best Integrated Home System", "Most Creative User Interface", and "Most Extreme Makeover" Awards, Robb Report magazine's "Ultimate Screening Room" Awards, CE Pro's Top 100 and numerous CEDIA Electronic Lifestyles® Designer Awards.
For more information about DSI Entertainment Systems and the services they offer, contact Josh Christian at 818.391.3061 or e-mail josh(at)dsientertainment(dot)com. Write to 653 No. Robertson Blvd. West Hollywood, CA 90069. Visit http://www.dsientertainment.com.
# # #