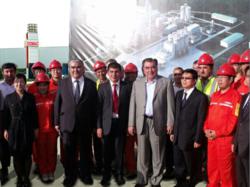 The opportunity will further strengthen DSMAC's position as China main cement aggregate production line equipment manufacturer.
Zhengzhou, China (PRWEB) August 27, 2012
It is released by DSMAC News Center that DSMAC has successfully exported a cement aggregate production line with capacity of 250TPH to Tajikistan, for the Ya Bay Project of HUAXIN Ya Bay Cement Company.
This cooperation is great international recognition for the strength and product quality of DSMAC, which is benefit to improve its international status. HUAXIN Cement is one of China largest cement manufacturer, known as the leader of China's cement industry. In 1999, XUAXIN cement had built a strategic partnership with the world largest cement manufacturer Switzerland Holcim Group. In the past 12 years, Holcim helped and supported HUAXIN Cement in the technology, production and management, and the proportion of Holcim shares had increased from 20% to 40%.
In July 2012, DSMAC won to be the cement production line supplier for the HUAXIN Cement project in Tajikistan. The contract includes BW1000*5600 apron feeder, BDG1252 undulate roller feeder, PF1315 impact crusher, PCH1010 ring hammer crusher, etc. And the total value is $221,000.
HUAXIN Cement Ya Bay Project has caused great attention of the Tajikistan government, and the president Emomalili Rahmon said that Tajikistan national construction required a large amount of high-quality cement, and hoped HUAXIN Cement Ya Bay project could be put into operation as soon as possible, supporting Tajikistan economic construction.
"The opportunity to partner with HUAXIN Cement on the Tajikistan Ya Bay Cement Project will further strengthen DSMAC's position as China main cement aggregate production line equipment manufacturer," Lu Hongbo, President of DSMAC, "And we have confidence that our partnership with HUAXIN Cement will be win-win situation depending on our high efficiency equipment and 24*7 online skilled engineers service."
In addition to this cement production line for the Ya Bay Cement Project in Tajikistan, DSMAC also cooperated with HUAXIN Cement for other projects, such as a double spiral sand washing machine with HUAXIN Aggregate branch and DPC1616 hammer crusher parts high manganese steel rotor with HUAXIN building materials branch.
About DSMAC
DSMAC is a global leader in the design, development and manufacture of crushing, feeding and screening equipment, as well as sandstone aggregate production line for quarry and cement plants. DSMAC can also offer general contracting service of gravel and aggregate production line project (Design, Civil Engineering and Installation) and wear resistant spare parts for mining machinery.
DSMAC Group