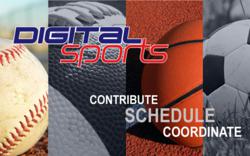 Yardley, PA (PRWEB) September 05, 2012
DigitalSports®, the one-stop-shop for all things youth sports, is pleased to announce the winner of its first monthly DS Reporter™ contest. A social site where students can share their sports stories, pictures and videos with the nation, DigitalSports® is hosting ongoing contests for students 13–19 years old. The contest winner for the month of August is Bryson S. from Ralph L. Fike High School in Wilson, N.C.
A senior athlete and journalist, Bryson will receive a $10 iTunes® gift card* and a free CorrectEnglish® Web subscription. Also, as the first winner, she is on her way to possibly winning a $10,000 college scholarship or other great prizes.
"We're excited to have Bryson as our first monthly winner, and we are thrilled to see how active she is on our site," said John Fallon, VP of Marketing for Vantage Learning, the parent company of DigitalSports®. "If she continues to post more great content and share her obvious love for sports and writing, she very well could go on to win more fun rewards. As Bryson is just the first monthly winner, though, the contest for the annual winner is still wide open! We encourage others to vie for the title of 'Reporter of the Year.'"
DigitalSports® celebrates the achievements of student athletes while promoting literacy. In order to encourage students to write about what they're most passionate, and consistently sharpen their writing skills, the site is hosting ongoing contests for high school students. The student writers, or DS Reporters™, who showcase their reporting talents have a shot at winning cool prizes like tickets to sporting events, MP3 players, tablet devices and even money for their schools' athletic programs.
"As a company that focuses on education, we strive to create an active community that allows students to engage in writing in a fun and fresh way," continued Fallon. "And as incentive to write and write often, we are offering up some really great stuff. Like Bryson, all students have to do is post content, and they could possibly win autographed memorabilia from a sports star or money for college."
Points are awarded for posting content to the DigitalSports® site like articles, photos and videos, and sharing this content on various social media sites. The more engaging a DS Reporter™ is within the community, the more points they will collect; and those who accumulate the most points on a daily, weekly, monthly and annual basis will be rewarded.
About DigitalSports®
DigitalSports®, powered by LeagueMinder®, informs, inspires and entertains by using sports and the achievements of student-athletes to improve literacy through community-generated content. DigitalSports® provides a safe environment for building a community around local high school and youth sports teams. We provide the tools to upload and share photos, videos and stories that range from real-time game coverage to insightful essays with the assistance of our professional sports writing tips. DigitalSports® is also the one-stop-shop for national and local high school sports schedules, scores and statistics. Find your school and get inside the game!
*iTunes® is a registered trademark of Apple Inc. and does not endorse, sponsor or support DigitalSports® or this contest.