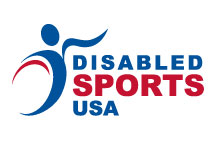 "The 2012 programs will include sport activities that allow individuals with disabilities to lead full and active life styles," said Kirk Bauer, JD, executive director of Disabled Sports USA.
Rockville, MD (PRWEB) May 25, 2012
Hundreds of wounded warriors, youth and others with disabilities will participate in Disabled Sports USA's SummerFest, a nationwide series of summer sports learn-to and competitive opportunities. More than 80 summer sports programs in over 30 sports in 30 states will be offered by Disabled Sports USA (DSUSA), its local community chapter network and other partnering organizations.
The SummerFest sports series is the only one of its kind in the nation helping to ensure participants with physical disabilities receive state-of-the-art adaptive equipment, instruction and competition in a broad range of summer sports including archery, cycling, athletics, kayaking, water skiing, sailing, surfing, canoeing, golf, hiking, rock climbing, scuba diving, fishing and more.
"The 2012 programs will include sport activities that allow individuals with disabilities to lead full and active life styles," said Kirk Bauer, JD, executive director of Disabled Sports USA and a disabled Vietnam veteran. "We are also integrating our wounded warriors into these community sports events to give them expanded opportunities to participate in their own communities."
Military sports programs include the "learn-to" events for wounded warriors as well as extreme sports are offered as part of DSUSA's Warfighter Sports program. Now in its ninth year of service, all sports programs offered are free of cost for severely wounded service members and their families. Activities will be held for severely wounded service members rehabilitating at the major military hospitals, VA hospitals and other military medical centers across the nation. Wounded warriors discharged from the military will also have the opportunity to continue to participate at DSUSA chapter programs throughout the USA, so they can maintain an active lifestyle.
Upcoming Memorial Day weekend events include: Team Warfighter Sports' participation in the Ski to Sea relay race, a 100-mile long, multi-sport competition that stretches from Mount Baker to Bellingham Bay, Washington on May 28, supported by The Heisman Trophy Trust. In addition, more than 50 wounded warriors will be taking part in the Wave Warriors Surf Camp, in Virginia Beach, VA this weekend, learning how to surf as well as participate in other water sports. The surf camp, in partnership with Billabong and Air Compassion for Veterans will take place in conjunction with the Steel Pier Classic.
SummerFest sports series includes national and regional competitive events and training opportunities, including: US Handcycling Series (nationwide), Great Lakes Regional Games (IL), Endeavor Games (OK), U.S. Association of Blind Athletes Cycling and Rowing Development Camps, and DSUSA Adapt2Achieve Chapter Development Conferences in the Northeast and Northwest regions.
Summer activities conducted at DSUSA chapter sports and recreation venues throughout the USA include:
Alaska: Challenge Alaska; Southeast Alaska Independent Living
Alabama: Lakeshore Foundation
Arizona: Arizona Disabled Sports
California: Adaptive Athletics Association; Disabled Sports Eastern Sierra, Disabled Sports USA Far West, San Diego Adaptive Sports Foundation, US Adaptive Recreation Center
Colorado: Adaptive Sports Association, Adaptive Sports Center- Crested Butte, Breckenridge Outdoor Education Center, Challenge Aspen, Colorado Discover Ability, National Sports Center for the Disabled, Steamboat Adaptive Recreational Sports, Telluride Adaptive Sports Programs, US Handcycling
Connecticut: Leaps of Faith Disabled Water Skiers, Sports Association of Gaylord Hospital
Idaho: Sun Valley Adaptive Sports Programs
Illinois: Adaptive Adventures, Great Lakes Adaptive Sports Association
Kansas: Wheelchair Sports, Inc.
Maine: Maine Adaptive Sports & Recreation
Massachusetts: CAPEable Adventures
Maryland: Team River Runner
Minnesota: Courage Center
Missouri: Disabled Athlete Sports Association
Montana: DREAM Adaptive Recreation, Eagle Mount Billings, Eagle Mount Bozeman
New Hampshire: New England Disabled Sports, New England Handicapped Sports
Association, Northeast Passage
New York: Lothlorien Therapeutic Riding Center, STRIDE Adaptive Sports, North Country Access
North Carolina: Bridge II Sports, SUDS Diving
Ohio: The Adaptive Adventure Sports Coalition
Oklahoma: UCO Sports & Recreation, United States Association of Blind Athletes
Oregon: Happy Trails Riding Center
Pennsylvania: Two Top Mountain Adaptive Sports Foundation
Tennessee: Sports, Arts, and Recreation of Chattanooga
Texas: Operation Comfort
Utah: Common Ground Outdoor Adventures, National Ability Center
Virginia: Adventure Amputee Camp, Wintergreen Adaptive Sports
Vermont: Friends of Stowe, Vermont Adaptive Ski and Sports
Washington: Outdoors for All Foundation
West Virginia: Challenged Athletes of West Virginia
Wyoming: Teton Adaptive Sports
Corporations and foundations supporting DSUSA's sports programs, including the programs for severely wounded service members include: Platinum: Ariel Corporation, Bob Woodruff Foundation, Chartis, U.S. Paralympics, WellPoint Foundation, The Moore Charitable Foundation. Gold: Advocator Group, Anthem Life, The Chart Group, Fluor, Heisman Memorial Trophy Trust, May & Stanley Smith Charitable Trust, PING, Tee it up for the Troops, Trijicon, Wash Depot Holdings, and others.
To view the full calendar of SummerFest events visit http://www.dsusa.org/calendar-dsusa.html.
About Disabled Sports USA
Founded in 1967, Disabled Sports USA is a charitable organization that provides opportunities for individuals with disabilities to develop independence, confidence and fitness through participation in sports. What began as a program to serve Vietnam veterans has since grown into one of the nation's largest multi-sport, multi-disability organizations, annually serving more than 60,000 wounded warriors, youth and adults with disabilities. A member of the U.S. Olympic Committee, Disabled Sports USA offers programs in more than 40 summer and winter sports through its nationwide network of more than 100 community-based chapters. For more information, visit http://www.dsusa.org.