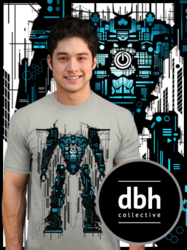 DBH Collective gives artists complete freedom of design to share a common ground with the artsy, pop-culture community. The quality of these tees plus the ability to run your own show is more than you could ask for as an artist. - Zerobriant
Chico, CA (PRWEB) October 11, 2012
Design by Humans new DBH Collective initiative debuted last month with 25 of the industry's most popular artists and is already a hit as sales spike and more artists are added. Internationally recognized graphic artists Hydro74, Deaddreamer, Dandingeroz and Sebasebi have joined DBH Collective which offers the largest selection of customizable, graphic t-shirts. DBH Collective empowers artists to create more designs and promote them to fans in their own online storefronts. By year's end, 50 more new t-shirt stores are expected to open.
Design by Humans is an online community for graphic tee fans, which includes the popular Shirt of the Day promotion, a user-driven daily deal and t-shirt competition. The team behind Design by Human's new initiative spent over a year perfecting the technology for its made-to-order, direct to garment process, and the result is the ability to print larger, more vibrant graphics on any color t-shirt. This direct to garmet printing process eliminates the need for inventory guesswork and allows artists to create more freely.
"The early response to DBH Collective from artists and the community has been extremely positive," said Jeff Sierra, owner, Design by Humans. "These artists are creating amazing designs and we are thrilled to be able to provide a way for them to capitalize on their talent."
DBH Collective artist, Zerobriant, had this to say, "DBH Collective gives artists complete freedom of design to share a common ground with the artsy, pop-culture community. The quality of these tees plus the ability to run your own show is more than you could ask for as an artist."
How it Works:
Graphic artists upload their artwork; choose a t-shirt color and then select a model to promote the final product. Design by Humans displays the image in the artist's DBH Collective store almost immediately. All orders placed before 3pm PT are transformed, using Design by Humans' automated technology, and printed on the company's comfortable blend t-shirts, which are then shipped the following day.
Giving top artists in a variety of genres like sci-fi, cyberpunk, abstract, cartoons and more, the opportunity to create the best quality work is good for fans and business. In just over two weeks, Design by Humans has seen sales spike and fans eager for more artists to be added. Design by Humans is responding accordingly by inviting artists like Hydro74, Deaddreamer, Dandingeroz and Sebasebi to be a part of the DBH Collective.
Design by Humans ensures that artists' stores are representative of their style and also profitable for them. Artists earn a royalty for each t-shirt sold and receive valuable resources to market their stores effectively. Visit the Collective and learn how to join the artist t shirt stores.
"Total design control + quality print = Pure Awesomeness," added Zerobriant.
About Design by Humans:
Founded in 2007, Design By Humans is a creative community of T-Shirt design lovers. From shopping for new graphic tees, organizing design contests and communicating fashion trends; it is a society of artists, fashion gurus and expressive humans. Design by Humans is a privately held company and is headquartered in Chico, Calif.
For more information on Design by Humans, please call 530-924-0183 or visit designbyhumans.com.
General Inquiries:
Alex Wood
Design by Humans
O: 530-924-0183 x 305
alex(at)designbyhumans(dot)com
Media Inquiries:
Angela Moore
Starfish PR
C: 310-429-8868
angela(at)starfish-pr(dot)com