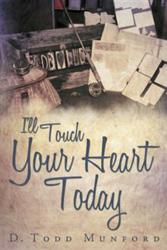 MOUNT PLEASANT, Utah (PRWEB) April 10, 2013
The new poetry collection "I'll Touch Your Heart Today" (published by Balboa Press), by D. Todd Munford, is a compilation of the poetry he has written for his wife, Laudi, about life, love and daily experiences.
"As we have encountered situations, throughout our marriage, a large amount of feelings, emotions and thoughts have been expressed in our book," Munford writes. "This is not a journal, but a collection of words shared with one another, to continue connecting with each other, heart to heart."
An excerpt from "I'll Touch Your Heart Today":
"Here's to all that laugh with pain,
To all that see, grey clouds with rain.
To those that smile, yet deep inside,
Have lost all hope, all faith, all pride.
There is a thing, you cannot lose,
You have your choices, but this he'll choose."
Munford writes these poems daily for his wife, from a very deep and personal place, and knows their intimate words will resonate with readers. "Others have experienced similar situations," Munford says, "being in love when your heart is overwhelmed, a longing to express your dreams and being able to see and express the greatness you experience with others."
"I'll Touch Your Heart Today"
By D. Todd Munford
Hardcover | 6 x 9 in | 224 pages | ISBN 9781452552750
Softcover | 6 x 9 in | 224 pages | ISBN 9781452552743
E-Book | 224 pages | ISBN 9781452552736ss
Available at Amazon and Barnes & Noble
About the Author
D. Todd Munford was born and raised in Salt Lake City with his younger brother, Chris. His single mother, Anne Rowe, ensured the two boys had plenty of manly experiences. Fishing and hunting became a passion. Munford lives on a ranch in Mount Pleasant, Utah, with his wife, Laudi. Together they have seven children. Munford is driven by the outdoors and enjoys nature, has a passion for life and loves his family and friends.