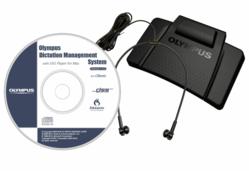 A 60 – 70% reduction in transcription time is realistic and a huge benefit of the
AS-7000...
Greer, SC (PRWEB) May 17, 2012
The latest, redesigned transcription kit from Olympus, the AS-7000, is now available from DTP® – The Dictation and Transcription Pro's. The AS-7000 includes several functional enhancements intended to make transcribing from audio format to text more straightforward and efficient for lawyers, doctors, entrepreneurs, and other professionals.
Launched last month, the AS-7000 has both new and improved features intended to deliver a straightforward, more streamlined process for workflow management. Users will find that this next generation transcription system from Olympus Dictation & Transcription converts speech file to text file faster and more efficiently.
"A 60 – 70% reduction in transcription time is realistic and a huge benefit of the
AS-7000," says Harold Holden, President of DTP. "The recognition tools of the system make it so much easier for transcribers to use Dragon Professional software. In addition, it is now easier for the user to automatically route files to another email address or a repository service for easy access by other team members." To review DTP's complete product profile for the AS-7000, visit http://www.dtpss.com/Home_2/Olympus-AS-7000-Digital-Transcription-Kit.
Holden points out that the AS-7000 integrates well with digital dictation devices and can be paired with the DS-3500 or the DS-7000, two new professional voice recorders recently introduced by Olympus, providing a total business solution. As with all of their product offerings DTP provides complete set up, operating instructions, and technical support. For information on the AS-7000 and DTP's other products please visit http://www.dtpss.com/store/Olympus-Digital-Equipment-and-Accessories.
The key features of the AS-7000 include an ergonomic 4-button foot switch (one more than its predecessor, the AS-5000) and a redesigned headset. In addition, the AS-7000 comes with the upgraded Olympus Dictation Management System (ODMS) software, and special transcription tools. Background dictation notification support and a window to indicate how much transcribing time is left are also key features. With the AS-7000 the user can have other audio formats (DSS Pro, MP3, etc.) playing in the background without leaving another application, like word processing, that may be running.
Transcribed files can be easily shared and managed among large work groups using the AS-7000, adds Holden. As well, the enhanced scalability and streamlined interface of the system requires less back end configuration from an organization's IT personnel.
DTP is a full service dictation and transcription provider. The company has been in business for over six years, and has made a name for itself in the world of speech recognition and digital dictation. Currently, DTP has a solid clientele in the legal, medical, and business arenas nationwide.
About DTP Sales and Service:
DTP Sales and Service provides the very best solutions for transcription, dictation and speech recognition for professionals nationwide. Their mission is to provide the highest level of customer satisfaction through their exceptional products and customer relations. Their elite partnership with Dictaphone® is a continuation of the 100+ year tradition of excellent products and customer service. Their friendly, expert staff is fully certified by dictation and transcription industry leaders such as Nuance®, and Philips®. They go beyond the typical online-only retailers by providing exceptional personalized service from the very beginning. For more information visit http://www.dtpss.com/.
# # #