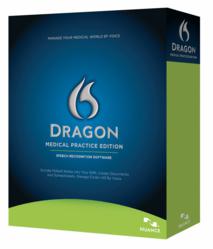 The support that we offer for Dragon Medical Practice Edition allows customers to reap the full benefits of the product rather than just one or two components...
Greer, SC (PRWEB) April 16, 2012
Rounding out its product offerings of all things dictation, retailer DTP Sales and Service will now be offering Dragon Medical Practice Edition, the speech recognition software for small medical practices.
More than just a retailer, DTP Sales and Service also provides on-site and remote training for the software, a value-added advantage that most customers utilize. All of their service offerings for Dragon Medical Practice Edition can be easily viewed at http://www.dtpss.com/Dragon-Medical-Practice-Edition-v11.
"The support that we offer for Dragon Medical Practice Edition allows customers to reap the full benefits of the product rather than just one or two components," says DTP president Harold Holden.
This support, as it turns out, is not merely a "nice-to-have" advantage, it's an essential "need-to-have" component, especially for medical practices transitioning to Electronic Health Recrords (EHRs). In an extensive study prepared in 2008 for the California HealthCare Foundation, the University of California San Francisco reported discoveries on how EHR solutions are not just a drive-by process for physician practices. Successful EHR operations require sustained long-term dedication to the process and reorganization of office workflows to make the most of the EHR software. Critically, the report also shared there is threshold in the relationship between effort expended and benefits achieved. Without conscientous integration, a physician could end up spending more time at the office and not reaping the benefits of EHR software.
The study, which focused on solo-practitioners and small practices, also concluded that the benefits of EHRs varied greatly, even among providers using the same software. Training then, is critical to making the most of an EHR solution complemented with speech recognition software like Dragon Medical Practice Edition. Starting with a stellar, easy-to-use software is not actually enough.
This is where DTP comes in. Their dedicated staff is prepared to help design a solution that works for a medical practice. The company's experience with speech recognition allows an outside the box approach to finding what works best for each customer that is unhindered by insider group-think.
"The product is a further extension of our company's overall philosophy that we are not about shipping a box and then forgetting about you," says Holden.
DTP has been in business for over six years and has made a name for itself in the world of speech recognition and digital dictation. Currently, they have a solid clientele in the legal, medical, and business arenas nationwide. Their existing speech recognition portfolio is available at http://www.dtpss.com/store/Speech-Recognition-Software.
The company is also a trusted source for many of the products integral to making the most of Dragon Medical Practice Edition. DTP carries several digital dictation products that can be used with Dragaon Medical Practice Edition such as Olympus® DS-5000 and Philips® 9600 digital voice recorders for a mobile solution. Additional complimentary equipment includes Nuance's PowerMicII and Philips® SpeechMike Air microphones that offer outstanding speech recognition capabilities creating a turnkey hardware solution nearly from the start.
With this new offering, DTP Sales and Service has not only given its customers a powerful tool for their businesses, it has given them a place to turn for a solution to their difficulties. By integrating a proficient product with an established tradition of excellent customer service and support, the company is poised to continue its pattern of making its customers more successful by helping them make the most of speech recognition technology.
About DTP Sales and Service:
DTP Sales and Service provides the very best solutions for transcription, dictation & speech recognition for professionals nationwide. Their mission is to provide the highest level of customer satisfaction through our exceptional products and customer relations. An elite partnership with Dictaphone® is a continuation of the 100+ year tradition of excellent products and customer service. The friendly, expert staff is fully certified by dictation and transcription industry leaders such as Dictaphone®, Nuance®, and Philips®. They go beyond the typical online-only retailers by providing exceptional personalized service from the very beginning. To learn more about how DTP Sales and Service can create a unique solution for your business, visit http://www.dtpss.com/.