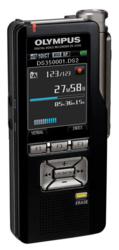 We are confident that our new and existing clients will ramp up their productivity and efficiency when they incorporate the DS 3500 into their daily business schedules.
Greer, SC (PRWEB) May 09, 2012
The recently launched, Olympus DS 3500 Digital Voice Recorder is now available from DTP® – the Dictation and Transcription Pros. This new generation digital recorder from Olympus is designed to simplify the workflow of busy professionals and be a useful and dependable on-the-go, information management tool.
For DTP, a full service dictation and transcription provider, the Olympus DS 3500 is a welcomed addition to a solid lineup of Olympus Digital Voice Recorder product options. The device features include a 2-inch color LED (TFT) screen for display clarity, as well as enhanced security with device password protection and real-time 128- or 256- bit file encryption. With an improved speech-optimized microphone that is self-contained and has variable recording modes, the DS 3500 is ideal for recording conferences and interviews in stereo. It also comes with optional external microphones.
"The DS 3500 is an outstanding recorder for the value," says Harold Holden, President of DTP. "It is equipped with a quality microphone, superior data encryption and functions well with Dragon Naturally Speaking software. This digital recorder will appeal to professionals in a wide range of industries including legal, healthcare, insurance, and small business owners," adds Holden. "We are confident that our new and existing clients will ramp up their productivity and efficiency when they incorporate the DS 3500 into their daily business schedules."
Professionals who use the Olympus DS 3500 Digital Voice Recorder will notice several dramatically advanced features including dual memory card slots that support both SD and microSD cards. The cards are contained in separate slots and allow for expansion of up to 32GB of total memory. The DS 3500 also allows for full integration with professional digital workflows and is packaged with next-generation Olympus Dictation Management Software. The ability to organize significant volumes of data is enhanced by the DS 3500's capacity to store up to 200 dictation files per folder. For further informatino on the product features visit http://www.dtpss.com/store/Olympus-Digital-Equpiment-and-Accessories/Olympus-DS-3500-digital-voice-recorder.
Someone using the Olympus DS 3500 Digital Voice Recorder has three ergonomic programmable push button controls to manipulate the device's functions. For additional language options, the LCD screen supports and displays information in English, French, and Spanish. For additional benefit and longer usability between charges, the DS 3500 runs on a Lithium-ion battery. The DS 3500 is also compatible with Macintosh systems.
The DS 3500 joins DTP's extensive offering of digital dictation products and accessories, including the Olympus DS 5000 Voice Recorder, as well as several leading transcription products.
DTP has been in business for over six years and has made a name for itself in the world of speech recognition and digital dictation. Currently, they have a solid clientele in the legal, medical, and business arenas nationwide. Visit their complete product portfolio at http://www.dptss.com/.
About DTP Sales and Service:
DTP Sales and Service provides the very best solutions for transcription, dictation and speech recognition for professionals nationwide. Their mission is to provide the highest level of customer satisfaction through their exceptional products and customer relations. Their elite partnership with Dictaphone® is a continuation of the 100+ year tradition of excellent products and customer service. Their friendly, expert staff is fully certified by dictation and transcription industry leaders such as Nuance®, and Philips®. They go beyond the typical online-only retailers by providing exceptional personalized service from the very beginning.
# # #