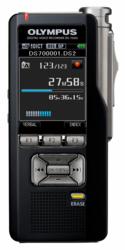 There is no 'window dressing' with this product. We can really rally around this new model because it is apparent that a lot of time and research went into developing a quality product.
Greer, SC (PRWEB) April 18, 2012
DTP has announced that it is now offering the new Olympus DS-7000, a professional digital voice recorder designed to maximize work efficiencies . The new product offering is presented as a valuable tool for lawyers, doctors and other high level professionals who require secure, reliable, flexible products that are simple and intuitive to use.
On the heels of the official launch of the DS-7000 by Olympus this week, DTP – the Dictation and Transcription Pro's – is pleased to announce the availability of this new dictation device as a solid upgrade that incorporates all the advanced features of the DS-5000 model and then some.
DTP is particularly excited to introduce the availability of the DS-7000, which boasts several upgraded features including a larger, color LCD screen (as opposed to monochrome), enhanced security password protection and extended battery life that industry experts are confident will mark a new industry standard in professional dictation. All of the new product features and highlights can be easily viewed at http://www.dtpss.com/Home_2/Olympus-DS-7000-Digital-Voice-Recorder.
"The DS-7000 is an improvement on an already great digital dictation product," says Harold Holden president of DTP. "There is no 'window dressing' with this product. We can really rally around this new model because it is apparent that a lot of time and research went into developing a quality product."
For a lawyer or doctor, the 2-inch color LED (TFT) display means greater screen clarity of important documents and sensitive data. In addition, the improved speech-optimized microphone illustrates a "major overhaul," says Holden and delivers recording quality that is cleaner and clearer giving the unit a 5 star Dragon rating (the highest available) from Nuance®, the makers of Dragon Naturally SpeakingTM.
The DS-7000 includes other key utility features including dual memory card slots that allow for an expansion of up to 32GB of total memory; real-time 128- or 256- bit file encryption; and a redesigned docking station. For professionals who may need extra storage space within their digital dictation folders, the DS-7000 has a capacity of up to 200 dictation files per folder. The device has three programmable function buttons and an LCD screen that supports and displays multiple languages, including English, French, and Spanish. It offers full integration with professional digital workflows and is accompanied by next-generation Olympus Dictation Management Software (ODMS).
While the DS-7000 is intended to replace the DS-5000, DTP is one of the few sales and service providers that will maintain a substantial inventory of the new model's predecessor. DTP ensures that all firms, medical practices or other companies that want to continue using the DS-5000, can rely on their team for reliable access and service.
DTP has been in business for several years and has made a name for itself in the world of speech recognition and digital dictation. Currently, they have a solid clientele in the legal, medical, and business arenas nationwide.
About DTP Sales and Service:
DTP Sales and Service provides the very best solutions for transcription, dictation & speech recognition for professionals nationwide. Their mission is to provide the highest level of customer satisfaction through their exceptional products and customer relations. Their elite partnership with Dictaphone® is a continuation of the 100+ year tradition of excellent products and customer service. Their friendly, expert staff is fully certified by dictation and transcription industry leaders such as Olympus, Nuance®, and Philips®. Their existing speech recognition portfolio is available at http://www.dtpss.com/store/Speech-Recognition-Software. They go beyond the typical online-only retailers by providing exceptional personalized service from the very beginning. For more information visit http://www.dtpss.com/.