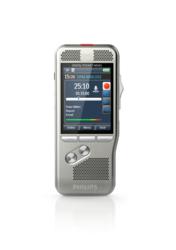 Greenville, SC (PRWEB) May 21, 2013
Beginning May 21st, 2013, DTP Sales & Service will be bringing the Philips Pocket Memo 8000, the newest in digital recording technology, to the hands of professionals around the country, providing a top-notch product for anyone looking to get the most from technology professional dictation recorder. The Pocket Memo 8000 is expected to have revolutionary options and impeccable design. Here area few of the all-new digital voice recorder features and highlights:
A complete 3D microphone system brings sound to life with 360 degrees of recording capability. Pick up all the sound you want from every direction without picking up background noise.
Revolutionary and unparalleled motion sensor detects when the user is holding the device and when it is in use. The motion sensor will switch between idle mode and other recording modes according to the situation it detects.
Even greater ergonomic design than its award winning predecessor—the Digital Pocket Memo 9600. Additionally, the brushed stainless steel casing creates a robust and highly durable protective shell around the device.
Larger screen for crystal clear viewing and intuitive on-screen layout for an even better user experience. High-capacity Li-ion battery provides even more recording power on fewer charges, along with a light sensor that controls display brightness, enabling even more power saving settings.
The Philips Pocket Memo 8000 digital dictation voice recorder looks to set the standard in digital dictation and transcription with its carefully-crafted design, enhanced recording capability, and clear, easier-to-read display.
This outstanding digital dictation recorder works exceptionally well in tandem with dictation software for business, healthcare and legal professions. It's incredibly easy to connect and use the Philips Pocket Memo 8000 with leading speech recognition software, making the experience that more robust. Users of popular voice recognition technology such as Dragon® NaturallySpeaking will find this recorder to be a perfect piece of hardware to supplement their dictation and transcription experience.
About DTP Sales & Service:
DTP Sales & Service provides the very best solutions for transcription, dictation, and speech recognition for professionals nationwide. DTP is fully certified by Speech Processing Solutions as a Master Digital Dictation Center. Their mission is to provide the highest level of customer satisfaction through their exceptional products and customer relations. To learn more about the upcoming availability of the Philips Pocket Memo 8000 contact our professional sales group at DTP Sales & Service at 877-387-2838 or through email at sales(at)dtpss(dot)com