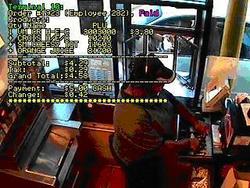 Burger King Corporation's selection of DTT Surveillance as a Premier Alliance partner underlines the strength of our technology and services
Los Angeles, CA (PRWEB) May 18, 2010
Thomas Moran, Executive Vice President of DTT Surveillance, is proud to announce that DTT has entered into a Premier Alliance Agreement with Burger King Corporation in Miami, Florida. The alliance will continue to strengthen DTT's role as the lead provider of surveillance services and solutions for the restaurant and hospitality industries. DTT currently services hundreds of Burger King locations across the country including those owned by Goldco, Cimms Restaurant Group, Dolphin Fast Foods, and much more.
"This is truly a great honor for DTT. Burger King Corporation's selection of DTT Surveillance as a Premier Alliance partner underlines the strength of our technology and services, which are designed specifically for the hospitality marketplace," stated Thomas Moran. "Through this agreement with Burger King, DTT looks forward to leveraging the power of surveillance technology and loss prevention services with positive impact in both franchised and corporate operations."
DTT Surveillance, the premier manufacturer of digital surveillance technology and loss prevention auditing services for the restaurant and hospitality industries, provides an array of video surveillance solutions and the most advanced point of sale integration technology available to restaurateurs. Including the industry leading SmartAUDIT program, DTT offers actionable operational information and analytical tools for owners to manage their locations more effectively and profitably.
About Burger King Corporation
The BURGER KNG system operates more than 11,400 restaurants in all 50 states and in 70 countries and US territories worldwide. Approximately 90 percent of BURGER KING restaurants are owned and operated by independent franchisees, many of them family-owned operations that have been in business for decades. To learn more about Burger King Corporation, please visit the company's web site at http://www.bk.com .
About DTT Surveillance
Headquartered in Los Angeles, California, DTT provides Digital Video Surveillance solution for Restaurant and Hotel industries. DTT was founded in 1999 based on a mandate, utilizing digital technology, to support the needs of a broad base of clientele. Since first launched, DTT has equipped, serviced and supported more than 21,000 clients. Every day, software provided by DTT handles over 6 trillion frames, protects $800 billion in assets and oversees in excess of 1,000,000 employees.
# # #