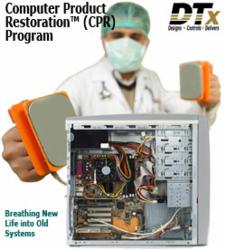 The unique thing about CPR is that under this program, we can repair, refurbish or upgrade any processor-based systems even if DTx did not build them originally
Melbourne, Florida (PRWEB) August 07, 2012
DTx announces a new service offering called Computer Product Restoration™ (CPR). The program is designed specifically for OEMs in need of repair, refurbishment or upgrade services for out-of-warranty, processor-based systems.
DTx announces the creation of the Computer Product Restoration™ (CPR) Program, a new repair & restoration service offering. DTx is an ODM with over 20 years' experience supporting customers around the world, both on-site and at their ISO registered facility. The CPR Program repairs, refurbishes or upgrades out-of-warranty, processor-based systems.
"We are very proud of our expert team of technicians," said Luis Alvarez, DTx VP of Operations. "They do a fantastic job of reviving old systems that companies had previously marked for scrap. Even systems that just need an upgrade come out of CPR in like-new condition. We like to say we 'breathe new life' into old systems!"
CPR includes comprehensive failure analysis and customized functional test and burn-in procedures ensuring products are returned to like-new, operating condition. DTx maintains a complete device history record for every modification which provides 100% product traceability.
Other highlights of the program include:

Services include repair, refurbishment or upgrades.
Eligible systems may be produced by any manufacturer.
Refurbished systems are restored to like-new condition.
Comprehensive failure analysis and reporting.
Customized functional test and burn-in procedures.
Complete device history record is maintained in DTx's proprietary Manufacturing Execution System.
Repairs or upgrades can be performed on-site or at DTx's CPR facility.
Compliant with environmental initiatives like WEEE Directive.
Centralized, 24/7/365 phone & email support available.
Optional advanced replacement programs.
Global storage capabilities.
"The unique thing about CPR is that under this program, we can repair, refurbish or upgrade any processor-based systems even if DTx did not build them originally," commented Gene Garofalo, VP of Business Development. "The benefits are hard to ignore: longer product life, 100% product traceability, extended time for validation & new product launch, increased ROI and revenue, and it promotes green initiatives."
About DTx: Since 1991, DTx has been recognized as the authority on highly reliable embedded computing systems and advanced display solutions. As an Original Design Manufacturer (ODM), we provide Engineering, Manufacturing and Supply Chain Management services to OEMs in the medical device, industrial automation and defense industries. We deliver value through product design and innovation, life cycle management, logistics and post production support for processor-based technologies. Our end-to-end solutions enable OEMs to focus on their core competencies