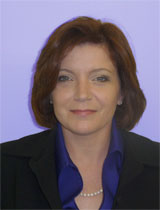 We are fortunate to have someone of Barbara's caliber join our team as we expand our capabilities and offerings
Melbourne, Florida (PRWEB) June 06, 2013
Garofalo, formerly VP of Operations at DRS Technologies, brings with her a wealth of experience in operations, supply chain, material management and quality. She joins the DTx team during a pivotal growth period following its recent acquisition by CONTEC Co., Ltd. of Osaka, Japan.
DTx Inc. is a leading provider of embedded systems in the medical device, industrial automation and defense markets. Its recent announcement that CONTEC Co., Ltd, a Tokyo Stock Exchange listed firm, purchased a majority of the company at the end of 2012 has positioned DTx for rapid growth.
"Barbara has the talent and experience we need to take DTx to the next level," said Todd Stirtzinger, DTx President & CEO. "With CONTEC's global service and support footprint and extensive hardware and software engineering capabilities, DTx is well positioned to deliver even higher value solutions to our clients worldwide. We are fortunate to have someone of Barbara's caliber join our team as we expand our capabilities and offerings."
Garofalo joins DTx from DRS Technologies, where she held several senior leadership roles since joining the company in 2008. Most recently, as Vice President of Operations, Garofalo was responsible for all Operations and Supply Chain activities across a $400 million business unit with 37 product lines. Barbara has demonstrated success in the areas of organizational redesign, new product introduction, and ERP implementation. She has led efficiency improvement efforts resulting in reduced costs, lower inventory and increased quality. Prior to her term at DRS, Garofalo held similar positions at Avidyne Corporation, Innovative Solutions and Support and AlliedSignal Aerospace.
"I'm pleased to join DTx during such an exciting time," said Barbra Garofalo. "DTx has a longstanding reputation in the industry for its stability and quality products and services. I'm looking forward to building on this as we continue to grow our portfolio and global reach."
Garofalo is replacing Luis Alvarez who was recently promoted to the newly created position of Vice President of Integrated Solutions. In this role, Luis will focus on working with new and existing clients to provide a higher level of products and service offerings utilizing the combined capabilities of both CONTEC and DTx.
About DTx:
Since 1991, DTx has been recognized as the authority on highly reliable embedded computing systems and advanced display solutions. As an Original Design Manufacturer (ODM), we provide Engineering, Manufacturing and Supply Chain Management services to OEMs in the medical device, industrial automation and defense industries. We deliver value through product design and innovation, life cycle management, logistics and post-warranty support for processor-based technologies. Our end-to-end solutions enable OEMs to focus on their core competencies.