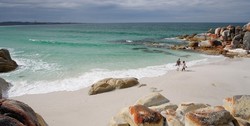 Many dream of a vacation to Australia, but few think to visit Tasmania, Australia's island state. Ask the average person what they know about Tasmania and probably the only thing that comes to mind is the Tasmanian Devil cartoon character
Bellevue, WA (PRWEB) November 4, 2010
Tasmania, Australia's island state, is a destination that comes by its exotic, faraway reputation the old-fashioned way: Naturally. A spellbinding variety of natural beauty is packed into this island about the same size as West Virginia, approximately 40% of which is protected as World Heritage Area or National Reserve. With mountains, beaches, caverns, adjacent islands and approximately 1,900 miles of world-class walking tracks, it is one of the world's finest destinations.
Now, award-winning travel wholesaler Down Under Answers (http://www.duatravel.com) (DUA) is eager to share the wonders of this underappreciated region of Australia by offering seven memorable Tasmania guided walking tours, and two air and land vacation packages.
Walking tour packages range from only $357* per person (one day, two-guest minimum) to $2,923* (six days, based upon double occupancy). Air and land vacation packages range from $2,399* (10-night air and deluxe hotel, based on double occupancy) to $2,499* (12-night air and first class hotel, based on double occupancy). To book one of the seven walking tours or two vacation packages, or to customize a more personalized Tasmania holiday, contact DUA, the travel experts at (866) 431-6508 or visit http://www.duatravel.com/tasmaniawalks.
Other enticing vacations to Tasmania by DUA:

Balance city life and historic beauty with a vacation package to Sydney, Hobart and Melbourne (10-night air and land* from $2,399 per person/double occupancy).
Commence your Australian vacation in Sydney and bask in the sunshine by the world's most resplendent harbor. Shop and dine in cosmopolitan restaurants in trendy neighborhoods as you mix and mingle with the locals. From Sydney, fly south to Tasmania's Hobart, shop the local art and craft galleries, enjoy waterfront dining or take a scenic drive along the coastline to Bruny Island. Continue north to Melbourne, the cultural capital of Australia and on to Phillip Island and Yarra Valley.
Experience tranquility and natural beauty on the Maria Island Walk (4-day land only* from $2,151 per person, two-guest minimum).
Explore Mercury Passage by boat en route to Maria Island's isthmus. Relax at Casuarina Beach Camp and swim in the sheltered Shoal bay. Day two begins by strolling across the isthmus to explore five beaches, convict cells, an ochre pit for the Tasmania Aborigines and White Gums Camp. Head inland on day three for breathtaking views on the Painted Cliffs, summit of Mt. Maria, and Bishop and Clerk. On the final day, enjoy the serenity of Darlington with a champagne lunch. Includes coach/boat transportation, park entry fee, 3-nights accommodation, all meals and wine with dinner.
Get a taste of Tasmania with Wineglass to Wine Glass (1-day land and sea* from $357 per person, two-guest minimum).
This one-day guided walking tour includes Wineglass Bay on the Freycinet Peninsula, considered one of the world's finest beaches. Enjoy a lavish gourmet luncheon with wine near Hazards Beach, and swim in Great Oyster Bay before cruising back.
For a complete, detailed list of all packages, click here.
"Many dream of a vacation to Australia, but few think to visit Tasmania, Australia's island state. Ask the average person what they know about Tasmania and probably the only thing that comes to mind is the Tasmanian Devil cartoon character," notes Down Under Answers president and founder Kirk Demeter.
Go cycling, kayaking or whitewater rafting. Trek deep into the Tarkine wilderness, inhaling the scent of eucalyptus and see a true Tasmanian devil.
Every traveler to Tasmania should include a food and wine experience in their itinerary. Tasmania is becoming increasingly renowned for its food, wine and whisky distilleries. Gourmets can nibble smoked salmon, abalone, oysters and a variety of cheeses while sipping Chardonnay, Pinot Noir, Riesling and Gewürztraminer—varietals that thrive in Tasmania's weather, similar to France's famed Burgundy region.
"One of the last great places on earth, Tasmania's natural beauty is matched only by the warmth of its people. What we here at DUA want travelers to know is that anyone who takes a trip to Tasmania is guaranteed to have a devil of a good time," continues Demeter.
*Walking tour prices do not include airfare to or from Tasmania. Air and land packages include both international and domestic air on Qantas Airways and deluxe hotels.
Founded in 1992, Seattle-based Down Under Answers (DUA) is the industry leader in travel to Australia, New Zealand, Fiji, Tahiti, the Cook Islands, Vanuatu and Dubai. Repeatedly voted Best Travel Wholesaler by Tourism Australia and Tourism New Zealand specialists, the company employs seasoned staff members to customize tours—ranging from unique, hands-on holidays to more traditional itineraries—for independent travelers through to groups of virtually any size. New for 2010 is the launch of Africa Answers. Visit online at http://www.africaanswers.com/. For further information, email info(at)duatravel(dot)com, or call (866) 431-6508.
http://duatravel.com/tasmaniawalks
http://twitter.com/downunderanswer
http://www.facebook.com/pages/Down-Under-Answers/121442450475?v=info&ref=search
http://www.flickr.com/photos/downunderanswers/
http://www.youtube.com/user/DownUnderAnswers
http://jasonsjobblog.com/
# # #