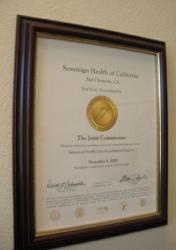 I have seen a significant impact of using the Brain Wellness Program in conjunction with the Dual Diagnosis Treatment Program.
San Clemente, California (PRWEB) October 10, 2012
The Sovereign Health Group is pleased to present a new and innovative addition to its syllabus of dual diagnosis treatment services called the Brain Wellness Program. An interdisciplinary offering, Brain Wellness combines individual and group cognitive rehabilitation exercises with a customizable program that incorporates a brain healthy diet, sleep hygiene, and stress management.
The objective of this breakthrough program is to enhance the brain wellness of participants and give them tools to combat cognitive deficits. The Brain Wellness Program is simple, yet powerful, and uses state of the art technology along with the specialized fields of interest of Sovereign Health of California's many gifted practitioners. Normal cognitive decline can be sighted in individuals as they age, however, noted mental fatigue, memory loss and significant deficits in cognitive functioning can be treated using the individualized program designed specifically to help in everyday life. Individuals with cognitive deficiencies due to substance abuse and mental health conditions have experienced significant improvement through the use of the Brain Wellness Program.
Setting Sovereign Health apart from other treatment centers, the Brain Wellness Program is integrated with Dual Diagnosis Treatment, Mental Health and Eating Disorder Treatments. Through the use of the CogTest, cognitive functioning back be measured objectively and both deficits and improvements can be noted over time. The test's results can also help assess the viability of certain psychotherapies and medication regiments. Past traumas, certain mental conditions or repeated problems with daily life have been treated with great success using tools including Neurobic. Neurobic is a web-based tool that is available for the public to utilize and has a wealth of knowledge as well as brain-enhancing games for anyone to try.
"I have seen a significant impact of using the Brain Wellness Program in conjunction with the Dual Diagnosis Treatment Program. My clients that suffer both from mental illness such as depression and addiction including prescription pill and cocaine addiction have experienced marked improvements in both conditions with the cognitive tools in this program, "states one SovCal Dual Diagnosis Practitioner.
The Brain Wellness Program has been very successful in treating people who have had mental illness, eating disorders, drug and alcohol dependencies and has aided in cognitive rehabilitation on many levels. Additionally, this program is open to anyone interested in increasing their cognitive abilities or who has been experiencing decline in memory and brain functioning in general.
For additional information on the Brain Wellness Program and other Sovereign Health of California dual diagnosis treatment programs, go to http://www.sovcal.com.
About Sovereign Health of California:
Located in the beach community of San Clemente, California, the Sovereign Health of California Treatment Center offers licensed and accomplished practitioners, providing treatment of concurrent behavioral health issues with evidence-based, innovative and cutting edge programs in both outpatient and optional sober living residence. Sovereign Health Group has three locations in California – San Clemente, Culver City, and Lake Arrowhead. We offer all levels of care from residential, transitional living and outpatient. We are no longer going by Sovereign Health of California, but Sovereign Health Group as we have expanded.