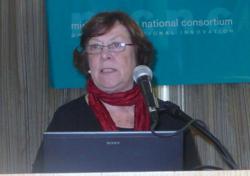 In these times of budget crises, schools and teachers greatly value their joint professional development at MCNC's annual Summer Institute.
New York, NY (PRWEB) June 29, 2011
Over two hundred people from across the country will convene on July 7th at the Jersey City Hyatt for one of the premier Early College professional development institutes, sponsored by the Middle College National Consortium(MCNC). District officials, college presidents, high school principals, teachers and counselors are expected to attend the conference as well as present workshops on issues that they have been involved with throughout the year. The theme of this year's conference will be "How Do You Become a College Ready School".
Professor Eric Nadelstern, presently a professor of Practice in Educational Leadership at Teachers College, Columbia University, will give the keynote address. Prior to his present position Professor Nadelstern was the Deputy Chancellor for School Support and Instruction with the New York City Department of Education where he led the Department's Small School Initiative. Professor Nadelstern will track the origins of the small school reform movement in New York City and speak to his experiences of taking small schools to scale at the New York City Department of Education.
This years's conference will build on last year's conference theme of "College Readiness". Dr. Cecilia Cunningham, the founder and Director of MCNC, along with former principal and long time MCNC academic coach, Terry Born, will kick off the conference with a plenary session workshop on Professor David Conley's Key Cognitive Skills (KCS), the benchmark for what students need to know to be successful in college. They will focus on helping MCNC Institute attendees deepen their understanding of Key Cognitive Skills.
The Common Core State Standards are an attempt to provide a common, and high, set of standards throughout the country so that students are prepared for college and the world of work. In order to familiarize workshop participants with the Common Core State Standards MCNC is offering workshops on them in "Mathematics and Potential Assessment Requirements", "Rethinking Literacy in Social Studies", and "Analyzing Student Work".
The Middle College National Consortium strongly believes that Enhanced Dual Enrollment can successfully help students not traditionally found in higher education go on to college. Enhanced Dual Enrollment provides students the opportunity to take college classes, with added supports, while still in high school.
MCNC has a seventeen year tradition of offering the highest quality workshops at its conferences and professional development institutes. MCNC's mission is to develop small schools in which high school students, especially those who have been previously underserved by their former schools, can earn both a high school diploma and either an Associate's Degree or transferable college credits upon graduation.
To learn more about the Middle College National Consortium, visit MCNC at http://www.mcnc.us/ for a comprehensive overview of the history, design principles, current work and achievements. To learn more about the upcoming conference please visit us at MCNC Summer Professional Development Institute.
Contact information
Tony Hoffmann
Middle College National Consortium
http://www.mcnc.us
718-361-1981 X6
thoffmann(at)mcnc(dot)us
###