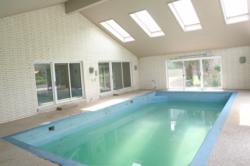 We do not want our properties to become just another lingering listing on the MLS. We want to move them now and let the buyers set the value through competitive bidding. The auction accomplishes this goal.
(PRWEB) June 22, 2011
Fine & Company, LLC, the nation's boutique real estate auction company, announced the July 26th multi-home auction featuring a 4,000 sq. ft. all-brick, ranch home with indoor pool and all of its original details in Burr Ridge, IL and a picture-perfect, single-family residence with remarkable craftsmanship in Chicago's prestigious suburb of Hinsdale.
The auction will take place at 7:00 p.m. on Tuesday, July 26th at the Chicago Marriott Southwest at Burr Ridge, 1200 Burr Ridge Pkwy, Burr Ridge, Illinois.
Registration begins at 6:00 p.m. and bidding commences at 7:00 p.m.
Potential bidders will have the opportunity to view both of the homes on June 25, July 9, 17 & 24, from 11:00 am to 1:00 pm.
Mike Siurek, a spokesman for the seller ROC/MCS Investments said, "we have owned these properties for a number of years, our partnership has determined that now is the time to sell so that we can proceed with other investment opportunities. We do not want our properties to become just another lingering listing on the MLS. We want to move them now and let the buyers set the value through competitive bidding. The auction accomplishes this goal. We will sell our properties in about ten weeks and buyers will have a chance to get a great buy. It's a win-win for the buyer and seller alike."
Michael A. Fine, principal of Fine and Company, said: "Today's real estate market is causing more homeowners to choose aggressive marketing approaches to focus the market on their home over competing properties."
Fine noted, "Buyers do exist in today's real estate climate, but need to be reached by casting a stronger net and they want to get a fair deal. Owning a home should not have the effect of a ball and chain around an owner's ankle tying them down to owning a property when they are ready to sell. The auction allows the seller to take control of the process and set the date for the sale of their property."
Mr. Fine added, "gorilla marketing along with traditional approaches focuses the attention of the market on the property and aggressively locates buyers. Our clients are successful individuals seeking alternatives; this is not a foreclosure auction where the homebuyer often buys sight unseen but a sensible way for a homebuyer to buy a home."
3 Regent Court in Burr Ridge, IL was originally priced at $769,900 and is offered with a suggested opening bid of only $200,000.
This home is a 4,000 sq ft, all brick ranch home situated on a quiet cul-de-sac. This neighborhood boasts mature trees, and harmonious surroundings with that quintessential, community feel. It sits on a well-manicured site and is positioned perfectly along side a crescent driveway that provides a panoramic view of the sprawling ranch home.
Nestled in the charming Devon subdivision the home has been freshly painted and newly carpeted, it is ready for move in; or it provides a fresh palate ready for anything the next owner wishes to create.
"An especially attractive feature of the cozy home is its partially finished basement with stone fireplace offering multitudes of uses like a lower-level entertainment room as well as an in-law suite. This home has a great floor plan with all of its original features and allows its next owner a place to transform into a very special home," said Siurek.
5834 Madison Street in Hinsdale, is a turn-key home with magnetic curb appeal draped in luxurious touches featuring 5 bedrooms, 3 full and 1 half bathrooms with a full, unfinished basement.
This stunner was originally priced at $995,000 and will be offered with a suggested opening bid of only $300,000.
The original design of this brilliant home offers you endless comforts of the traditional features everyone hopes for in their home. The interior feels like it just jumped off the pages of a magazine. This home provides much needed functionality with an elegant flare. Once inside, the buyer will be amazed at the high-quality construction and custom finishes.
This custom residence is positioned perfectly along side a crescent driveway in the Golfview neighborhood of Hinsdale offering magnetic curb appeal. The home is just steps away from modern conveniences, Hinsdale Central High School and the prestigious Ruth Lake Country Club.
This home was built with exceptional craftsmanship and is waiting for a new owner to embrace its natural allure and build a lifetime of memories in a suburb many dream of establishing their roots.
About Burr Ridge:
Burr Ridge has been dubbed "a very special place" and is known for its towering Burr Oak trees, a bird lovers paradise, with many ponds and lots of open space that provide a country feeling among its residents, with big city advantages nearby.
Burr Ridge is predominately well maintained upscale single family homes, some in gated communities, condominiums, and retirement communities. It has enjoyed great appreciation over the years. Burr Ridge is about 23 miles southwest of the Loop and almost 7 square miles. Burr Ridge is generally bounded on the east by Wolf Road, on the north by 55th Street, on the west by Madison Street (and Route 83 in the southern portion of the Village) and on the south by approximately 97th Street. Ideally situated at the intersection of the Tri-State Tollway and the Stevenson Expressway, Burr Ridge offers easy access to Chicago's Loop and airports.
The burr oaks still exist in Burr Ridge, along with fine homes on generous lots and distinguished townhome communities. Local shopping and high quality office parks have been blended into this natural setting, attracting those who become both residents and valued members of the business community. The well-balanced mix of the business and residential communities has allowed Burr Ridge to maintain a healthy corporate fund and one of the lowest tax rates in DuPage County.
Not far away is the Carriage Green Country Club in Darien, IL great for your wedding reception, a round of golf, fine dining, quick lunch or Sunday brunch. Carriage Greens Country Club is one of the finest entertainment and banquet facilities in the Chicago area.
This home is just steps from the Palisades Park which is a combination athletic field and playground. The athletic field has baseball and soccer facilities with bleachers and a parking lot. Across a large field is the play area with a very large playground complete with benches. The playground has unique rope climbing structures, swings, spinning cylinders and a sandbox with digging equipment.
About Hinsdale:
Hinsdale is also listed in the top 1% wealthiest towns in Illinois and is rich in history; the community is built upon a foundation of ideals and independence. It is the rarest of American locations, one that is able to maintain a delicate balance between the handshake of commerce and the embrace of community.
Possessing a genuine sense of place, Hinsdale is a story of success. With historic architecture; mature, tree-lined streets; the uniqueness of locally-owned shops and exclusive boutiques; excellent schools; highly-regarded health care; supportive social services for people of all ages; and the indomitable spirit of generous, civic-minded residents, Hinsdale is certainly a distinct destination.
Hinsdale is also known for its highly-regarded school system. Hinsdale's District 181 (Elementary) and District 86 (Secondary) consistently rank at the top in the state's school report cards. Hinsdale and neighboring Clarendon Hills have eight elementary schools that feed into Hinsdale Central High School located at 55th and Grant Streets in Hinsdale.
The town has a rolling, wooded topography, with a quaint downtown and is a 20-minute train ride to downtown Chicago. Hinsdale is served by Metra's BNSF Railway Line at three stations: West Hinsdale, Hinsdale and Highlands.
The village of Hinsdale offers facilities for a number of recreational activities. The Legge Memorial Park, Merlin Park, Robbins Park, Peirce Park, and Brook Park are worth visiting. Westmont Park District, Kiddieland Amusement Park, and Brookfield Zoological Park are also very close to the village. The whole family will also love a day full of learning and fun at the DuPage Children's museum.
Listed on the National Register of Historic Places, Hinsdale's central business district is the quintessential downtown of yesteryear. The combination of historically significant architecture, lush landscaping, and classic lampposts offers citizens, shoppers, and storekeepers an inviting setting in which to conduct business.
Mr. Fine said, "The auction is a systematic and sophisticated marketing approach to the sale of real estate not found in conventional brokerage that the auction focuses attention on the property and establishes a relative time-certain date of sale, which is especially appealing to sellers of means who are intent on moving on to the next phase of their highly productive lives."
A detailed Bidder's Information Packet has been assembled for each of the homes, and contains property specific information, about the auction process, and the property including a title report, survey and home inspection as well as the Terms of Sale. The purchase of the packet is required to bid at the auction and is available for sale at all viewing opportunities or by contacting the Project Manager at (312) 278-0600 x101.
Headquartered in Chicago with offices in Dallas, San Francisco, Las Vegas and Connecticut Fine and Company, LLC specializes in asset-specific marketing and is rated the premier real estate auction company in Chicago having recently successfully completed Chicago's First Gold Coast auction at 1400 N. Lake Shore Drive and a number of trophy home in Wisconsin.
Please call Fine & Company at (312) 278-0600 or visit http://www.fineandcompany.com/upcoming-auctions.html for more information.
###